Two renowned websites USA Today and The Telegraph have announce the lists of most spectacular theatres in the world in which Guangzhou Opera House stood top of both lists. The female British-Iranian architect Zaha Hadid designed this stunning asymmetrical theater in the Cantonese capital. "It's a total wow," and make Pecqueur say "It's a symbol that today the future of opera houses is in China. The sound's very rich and very perfect."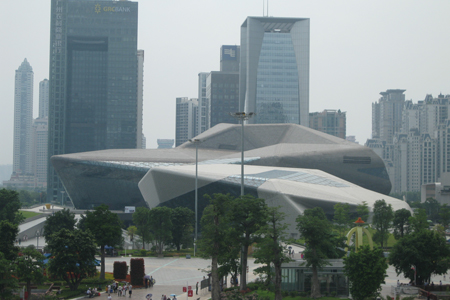 Situated downstream of Pearl River, covering an area of 42000 square meters, Guangzhou Opera House is one of three biggest theater in China along with National Theater in Beijing and Grand Theater in Shanghai. Resembling two pebbles on the bank of the Pearl River, the Opera House boasts a 1,800-seat theatre plus 400-seat multifunctional hall, rehearsal rooms and entrance hall. There, however, is no beam or column built. It is said that the architecture is even more complicated than Bird's Nest in Beijing, because no beam or column connection is the same as any other. Inside the Opera house, visitors will be impressed with "mountain-shaped" stone walls and transparent glass walls which give a scenic scenery of Pearl River.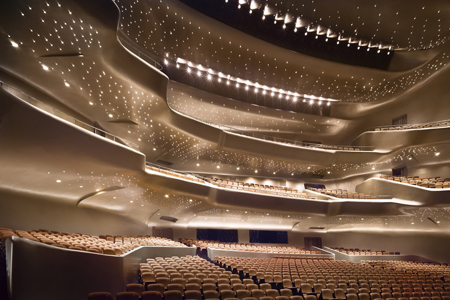 Not only is Guangzhou Opera House a cultural landmark, but it also embodies the Guangzhou's development, the pursuit for culture and art of Cantonese as well.