Hai Phong Post Office was fond by French in 1875 after opening the similar foundation in Ho Chi Minh City and Ha Noi. They established the first nation stamps in 1864 with many sizes and printed eagle in each square-shape stamps.
The date of letter delivery and receipt used to be seriously carried out in the first days. In front of the post office, the flags with three colors (French flag) were hanged on the days letters were delivered in both day time and at night with lights.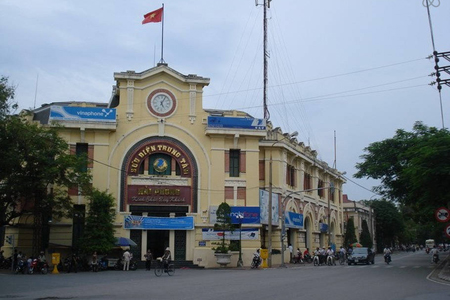 When the letters were sent to the post office, the blue flags with red border was hanged out Hai Phong Post Office as a way to show that the letters were already received, that way was different from the post office in the Central Vietnam where the flags bordered with blue were hang on instead. The letters were given to the postmen after some minutes checked. Besides, the inter-provincial telephone between Hanoi and Hai Phong was officially set up in April, 1906. Hai Phong Post Office is worth to pay a visit in the first time you travel to this port city to understand the way the post office worked in colonial time.