Hai Phong Opera House was built by the French in 1904 in the old market area of An Bien ancient village and completed in 1912. It is considered as the central area of the city of Hai Phong, also the meeting place of the Europeans, Chinese and Vietnamese as the plan by the French government at the time.
City Opera House was designed according to the prototypes of Paris Opera House and simulated the architecture of medieval French. The building materials are shipped from France to Vietnam, then constructed by Vietnamese workers under the direction of French architect.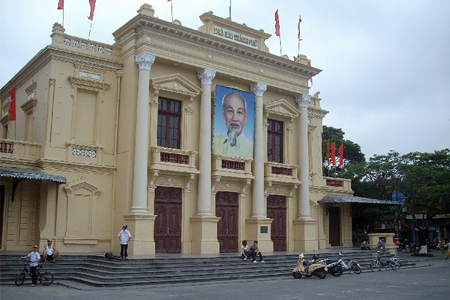 The Opera House has 2 floors, with 100 doors and windows, corridors, lobby, mirror room, canteen and a main stage with the 400 seats. Auditorium was designed with vaulted ceiling and decorated with flowers and names of famous European artists like: Mozart, Beethoven, Molière … Outside the theater is the large square, facing the garden and fountain.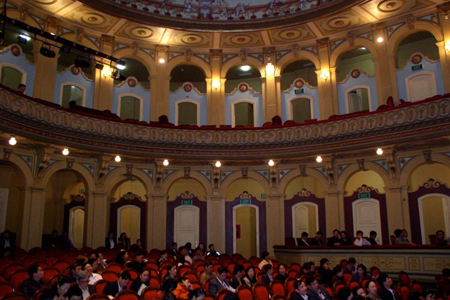 In the period of French colonial, the Opera House is the center of politics and culture of the rich people and French. At that time, only the troupes from France or the famous troupes in country were allowed to represent in Opera House. Today the Opera House is not only the place occurring the major holidays, ceremonies and cultural activities, but the plaza is also the site of important events, especially the moment welcoming the New Year's Eve in the city, contributing to enriching the cultural and spiritual life of the people.