Situated in the Kandawgyi Royal Lave, Karaweik Hall is one of iconic landmarks in Yangon with its gilded structure.
Completed in 1974, Karaweik Hall is the grand work of Burmese architect U Ngwe Hlaing. It has a solid structure that looks like two giant golden birds with a multi-tiered Pyatthat roof.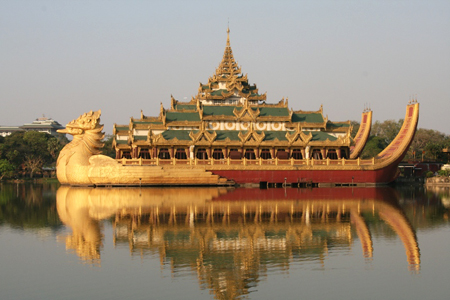 To add more lavish to the building, there are two golden balls hang from the beaks of these two Burmese mythology creatures and its tail is colored in red and gold. In the evening, Karaweik Hall even more majestic with the glittering water and decorative lights. There are reception halls, conference rooms, shops, buffet restaurants and theatres on the barge and it's highly recommended that tourists should try dishes here.
Karaweik Hall looks more stunning from the outside, most splendid in the afternoon when hit by the sunset. Picture perfect!