Philippines seem to be multi-culture nation with the presence of Spain, Japan and America in the past. If you have visit Intramuros with Spanish architecture, Manila American Cemetery is something which should not be missed.
Operated by American Battle Monuments Commission, Manila American Cemetery and Memorial is the largest among 24 American cemeteries in other countries in the world. The cemetery with total 615,000 square meters is a peaceful complex, decent space to pay respect and show your gratefulness with all soldiers who has sacrificed for the world's peace . There are about 17,206 graves of American soldiers, Filipino soldiers who died in Philippines or other allied nations.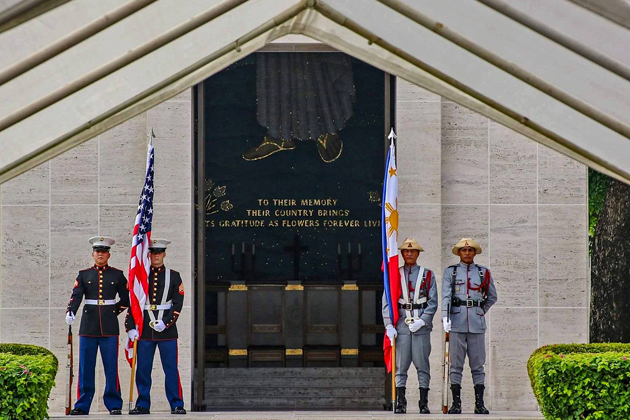 Until now, there are over 36,300 names in Wall of Missing and it's really hard for them to find their identities.
Visitor will be impressed and speechless when seeing rows of marble white cross and emotional when encountering the map and brief summary of World War II. Each cross contains soldier's basic information such as: names, date of birth and their hometowns. The view is also great with green grounds, white marble everywhere. It especially works if you are photographer or just want a calm place and stop for a while.
The central memorial hall is a rectangular stone carving building with a chapel inside. The wall is painted blue and drawn an image of a lady holding a bouquet of white flower which shows her honor to all soldiers here.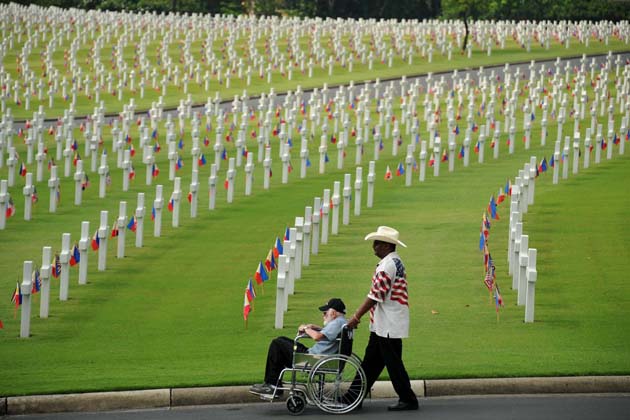 Nowadays, Manila American Cemetery and Memorial is where children learn about history, about the price of war and appreciate the peace they are living. The existence of Cemetery and Memorial is like a reminder of the war and emphasizes how important and precious peace is.
Opening Hour: 9AM-5PM except for Dec 25 and Jan 1.