Regarded as one of the most modern mosques on Earth, Putra Mosque, also known as the Pink Mosque, is the renowned mosque in Putrajaya.
Dominating the bank of Putrajaya Lake, Putra Mosque is the unique landmarks, visitors will see the fusion of Middle Eastern and traditional Malay architecture in its exquisite design, the magnificence of Malaysian craftsman while use indigenous materials.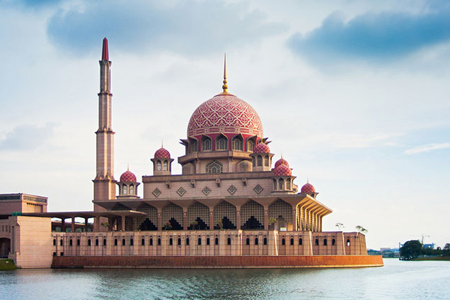 The main and smaller domes of Putra Mosque is built in pink granite which gives its desert-pink distinctive hue, and its doors, windows and panels boast ornate embellishments. The simple and elegant Prayer Hall in the mosque can accommodate up to 10000 worshippers. Visitors also can see an auditorium, lectures rooms, a dining hall, a library and an area for funeral services inside the Pink Mostra, which give you a deeper insight into how Muslim has evolved in Malaysia. Whilst entering the Mosque, visitors must dress respectfully.