Nestled between the bustling Nanjing Road and the raised Yan'an Viaduct, People's Square (Renmin Guang Chang) is a garden-type open space encircled with impressive buildings and facilities. Carefully manicured grasslands, flower terraces and stone path, all these make the Square become the ideal spot for people watching. As one of famous sites in enthralling Shanghai, People's Square is always teeming with people.
The Square covers an area of 140,000 square meters and before 1949, this area once was the No.1 Racetrack in Far East. Tourists still can see the ruins for the former main building lying at the northeast part of the Square. Today, the People Square is now home to Shanghai Municipal Government, the Grand Theater, Shanghai Museum and the Urban Planning Exhibition Hall.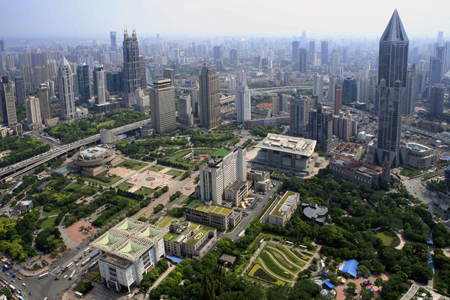 The Shanghai Art Museum is on People's Square. Sweeping wooden staircases, marble interiors, an outstanding collection of the best contemporary Chinese art and high-quality international exhibitions are the allure of the Shanghai Art Museum. Combine with the surroundings of People's Square, you have the captivating site of Shanghai!
The Shanghai Grand Theatre, located in the northern part of the People's Square is designed by French architect Jean-Marie Charpentier. Featured with unique architectural style and significant appearance, this structure is a spectacular landmark on the Shanghai skyline. As the dusk falls, the theater looks splendid, which leave a deep impression in tourists 'mind. The Shanghai Grand Theater has become a modern hub of artistic activities between China and the world.