Good news from Shore Excursions Asia for cruisers: In the upcoming summer 2020, Royal Caribbean International's new Spectrum of the Seas will offer overnight stays in Tokyo, Japan.
Itinerary in Summer 2020
According to a press release, Spectrum of the Seas and Voyager of the Seas will be heading to Tokyo's brand-new cruise terminal, Shinkyaku Pier in summer 2020. This is undoubtedly the best opportunity for cruise passengers to hop on Tokyo Shore Excursions to discover this spectacular city. Spectrum' visit to Tokyo Japan (with overnight stays) with planned departures on July 25 (out of Shanghai) and August 2 (out of Tokyo). Voyager will depart from Hong Kong on July 26 and from Tokyo on August 2, each staying overnight. In addition, the Quantum of the Seas will start its adventure from Singapore in 2019 along with both Spectrum and Quantum sailing from Singapore this year, this marks the beginning of Royal Caribbean's Double Quantum Year in the country.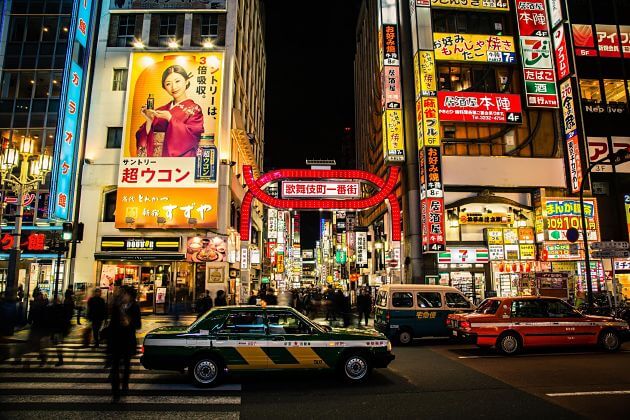 About Spectrum of The Seas
Spectrum of the Seas is a Quantum-Ultra-class cruise ship operated by Royal Caribbean International (RCI) and RCI fleet's first liner with an exclusive suites-only complex. Built specially for the Chinese market, the class is also considered "the next evolution" of its Quantum class. Its facility and service are no joke with large staterooms and cabin, a variety of entertainment venues as well as broad shipboard dining options. These followings are some of what you will find onboard:
Royal Caribbean's first-ever key-card access, private elevator, all-suite complex. Especially for suite-class cruisers only, it features a private swimming pool and a private restaurant for suite-class cruisers only.
The Ultimate Family Suite – an amusing two-story playground for families
Opened on Symphony of the Seas in 2018, this suite includes a private 3D cinema, an air hockey table, a slide from the kids-only bedroom to the living room, floor-to-ceiling LEGO wall and a 212-square-foot wraparound balcony with a whirlpool, climbing walls, and kid-friendly pool table.
Skypad – a top-deck virtual reality trampoline experience beloved by young children.
One large 3-level dining room with the capacity of 1844 seats serves Chinese and International cuisine specialties with additional a la carte menu items. Menus rotate each day of the voyage.
Additional facilities include a surf simulator, a rock-climbing wall measuring 40ft above the deck, a spa, a casino, and an outdoor movie screen.
Sails from Shanghai and Hong Kong to many ports in Asia.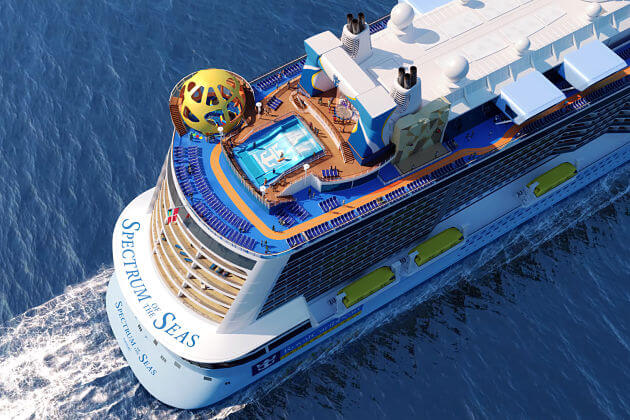 About Voyager of The Seas
The Voyager of the Seas was the launch of the successful "Voyager" class of Royal Caribbean International. With an impressive length of nearly 310 meters, it can accommodate up to 3,114 passengers (with double occupancy). Beloved for many cruisers for offering various possibilities of entertainment and attractions suitable for all ages such as an ice skating rink, miniature golf or the climbing wall 50 meters above the sea. Voyager of the Seas generally appeals to a broad range of folks of all ages for its distinct features including:
All cabins are comfortable with free 24-hour service, there are also baby-friendly cabins and extra family cabins available for those in need.
The luxurious restaurant offers multi-course menus of different cuisine ranging from Mexican, Italian to Japanese one.
Various attractions and entertainment sites including relaxation area and outdoor activities during daytime, calm performances in the evening, and wild party club at night. The most popular ones are a FlowRider surfing simulator, "virtual balconies" in inside cabins, 3D movies and a wide range of dining options.
Sails from Hong Kong, Singapore, Sydney (Australia), Tokyo (Yokohama) to many ports in Asia, Australia, New Zealand, South Pacific.