For a farming experience in Kuala Lumpur shore excursions, a visit to Taman Warisan Pertanian Agriculture Park is a perfect idea. All developments in the agriculture industry are displayed in the park. This place provides many experiences such as learning about crops that were the most important product in Malaysia until this country became a manufacturing-based country instead of an agricultural-based one in the past.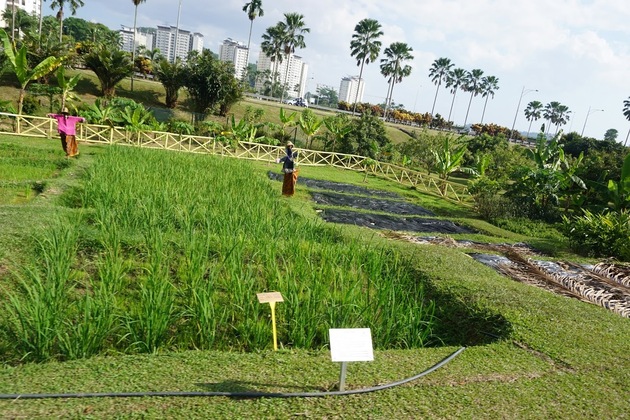 Although the manufacturing and petroleum industries occupy over 50% of Malaysia export revenue nowadays, agriculture is still an essential sector. A good place to present the process of cropping is well preserved by both locals and authorities. Taman Warisan Pertanian Agriculture Park is a typical example where visitors have the chance to see, touch, and experience the crops with a collection of plants including palm and rubber trees, fruits, cocoa, herbs, and many other traditional Malaysian spices. If you luckily visit the park during the time of fruits, you can fill your stomach with fresh tropical fruits. Moreover, various interesting events are held throughout the year that you definitely don't want to miss the opportunity to join.
Warisan Sate
Inside Taman Warisan Pertanian Agriculture Park, there is a special café where serves Kajang Haji Samuri sate – a traditional Malaysian rich dish consisting of various kinds of meat including chicken, beef, fish and many others with the fatty peanut sauce on the top. This dish is a specialty in Kajang, however, if you don't have the chance to visit that place (too far from the port that cannot include in Kuala Lumpur shore excursions), sample Kajang Haji Samuri sate inside the land of Putrajaya with green scenery surrounding is a completely strange experience.
Food and Souvenir Stalls
After strolling through the large park, you surely feel hungry and thirsty. There are some stalls with common drinks such as coffee, tea, fruits juice which are collected in the park, and food including fried chicken, local dishes, and rice. Besides, if you are looking for some idyllic souvenirs, other stalls are ideal places to pick up some flowers and decorations that are made with plants inside the park by local artisans such as products from cocoa and dried rubber leaves.
Orchard, Herbs, and Spices
The orchard area is home to a plenty of Malaysia fruits such as mangosteens, rambutans, pulasans, cempedaks, especially durians – the fruit with a heavy smell but wonderful taste. Besides, the area planting herbs and spices are wonderful with dozens of featured Malay species including curry leaves, jari lima, serai, selasih, kadok, and so on.