Why They Built Thich Quang Duc Memorial Monument?
Situated at the intersection of streets like Nguyen Dinh Chieu and Cach Mang Thang Tam, the monument shows a statue of Thich Quang Duc – a Vietnamese Mahayana Buddhist Monk, famed for burning himself to death at a busy Ho Chi Minh City street on 11th June 1963. Quang Duc self-immolated in protest to Diem's South Vietnamese regime. His act of self-immolation was widely reported worldwide. In 2005, the People's Committee of Ho Chi Minh City decided to build Thich Quang Duc Monument to record the important event in the struggle for the peace, independence, and freedom of the nation.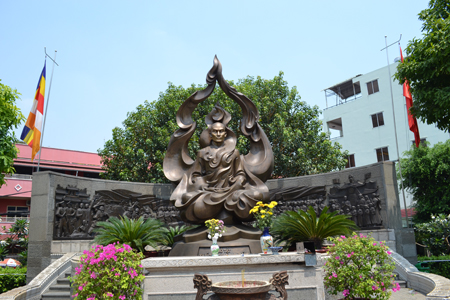 The story about Thich Quang Duc Monk
Buddhism is always considered as the main religion in Vietnamese spiritual life which made up over 70% of the population claiming that they believe in Buddha. When Vietnam's first president, Ngo Dinh Diem who follows Catholicism, enacted the hostile towards Buddhism in the 1950s. Many discriminatory policies were promulgated to give favorable to Catholics and neglect Buddhists in most aspects such as public service roles, military promotions, land allocation, and business arrangements. At that time, the Roman Catholic Church rapidly became the biggest landowner in Vietnam although the larger majority of the population are Buddhists.
In 1959, the indignation between the government and Buddhism followers reached its peak when they banned flying the Buddhist flag on the birthday of Gautama Buddha. Some demonstrations were taken place, government spat fire to suppress the crowd leading to nine people died. After all, no one took the responsibility that increased the outrage and made protests kept expanding in the following years.
Finally, on June 11th, 1963, a Buddhist monk named Thich Quang Duc burned himself to death right on a protest. His final note said: "I respectfully petition to President Ngo Dinh Diem to take a mind of sympathetic pity for citizens and implement religious equality to maintain the country's strength eternally."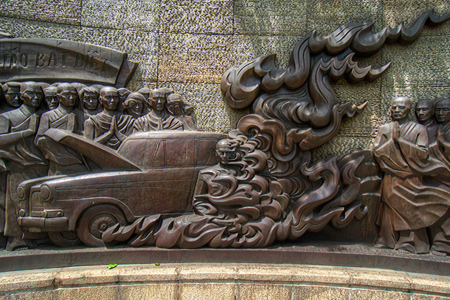 Thich Quang Duc Monument Park
There is a statue of the monk with his body sitting in the lotus position and his face imperturbable. Located at the place he self-immolated and not far from the Reunification Place, the park around the monument covers approximately 2,000 meters square with a lotus pond, walking path, trees and green lawns. It is no exaggeration to say that tourists will feel the peaceful moments of the park, by the green of the grass, lotus, the shades of trees, to escape from the bustle of the city. If you want to get a glimpse of Vietnam's history, a visit to Thich Quang Duc Monument cannot be missed in your Ho Chi Minh City shore excursions transferring from Phu My port.