Hunting for souvenirs is one of the most essential and exciting parts of traveling. Asia is a prime destination for anyone seeking some artisanal delights for loved ones back home or for themselves as a way to remember their unique experiences in Asia. Here are our best picks on great gifts and souvenirs to buy in Asia and of course, where to find them during your Asia shore excursions.
Best Gifts and Souvenirs to Buy in Asia
Unique Handmade Home Decor – Vietnam
The Motherland of Vietnam is home to many talented artists who can transform raw materials into households, useful items, and even luxury home decor. From rough wood to color pencils, local amateurs put a makeover and create masterpieces. Every products mark an impression of traditional Vietnamese spirit combining with a modern luxury style. Unique handmade home decor from Vietnam will shine in every corner of your home.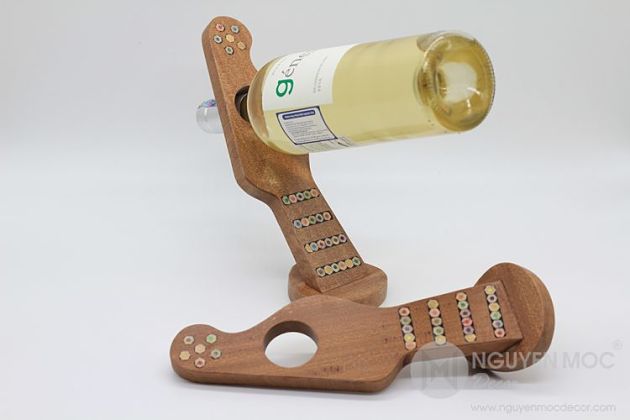 Silk Products – China, Vietnam, Thailand
China Silk
Perhaps one of the most popular Chinese gifts to take home for female relatives, silk products are an old favorite. Nice silk clothing can be quite expensive, depending on the quality. The same goes for bedding sets, but smaller items such as pillowcases, bags, and accessories are more affordable and widely available at tourist sites.
Vietnam Silk
Vietnamese silk is woven from the cocoons of the silkworm. Thus, it has always been considered extremely luxurious and only available to the nobility. In the past, silk is only used by Vietnamese royalty but nowadays it is widely used throughout the country. Silk and its beautiful products are affordable nowadays, so tourists have a chance to choose special gifts for friends and family.
Vietnamese silk costs at least VND 70,000/m and over VND 100,000/m for common kinds. Be careful with silk below that price because it maybe originates from China and of questionable quality.
Thailand Silk
Thailand is famous for its silk, which for many is a must-buy when visiting. From colorful scarves to bags and bolts of fabric, Thailand offers a wide variety of silks. There are many reputable places to purchase genuine Thai silk, one of which is the Jim Thompson House in Bangkok. If you're looking for a gift suggestion, this is a great bet!
Jewelry – China, Thailand
China Jewelry
Another favorite gift for the ladies is jewelry, of which there is a ton in China. Many stores will sell cheaper bracelets and necklaces, and areas near temples will often sell Tibetan-inspired jewelry (for example near Beijing's Lama Temple, other Tibetan temples, or at markets in Chengdu) which is made using silver and a combination of orange and blue stones. Sellers will often roam around areas popular with tourists too, so there are plenty of opportunities for purchases. Throughout the entire country you'll be able to find Jade and pearl pieces too, but make sure you're buying from somewhere credible if you're wanting to buy an expensive and genuine item. Our guide can help with this. Otherwise, there is a lot of lower quality jewelry available for very little money.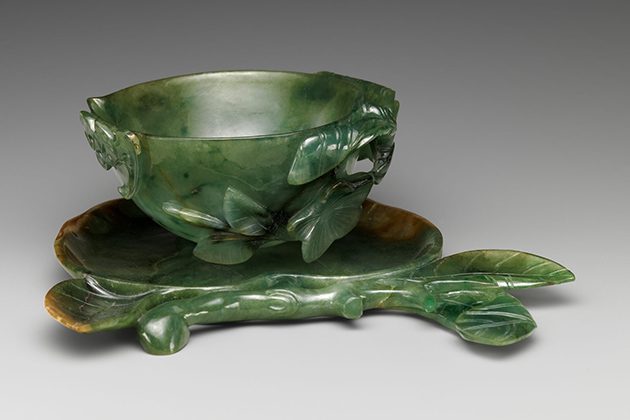 Thailand
If you are hunting for gorgeous jewelry to buy for yourself as a souvenir or as a gift for your significant other? Thailand is a great place to find unique jewelry. Chiang Mai is famous for its brilliant silver shops. Choose from an extensive selection including rings, necklaces and bracelets, as well as gleaming cups, and plates. Just be careful where you purchase jewelry, especially items of significant value.
Chopsticks – China, Japan, Vietnam
China Chopsticks
If you're planning on taking your new chopstick skills home, you'll have to get some chopsticks here. Chopsticks are available in many stores or supermarkets, you can buy a box of chopsticks or just a pair. If you're not that confident in your chopstick skills yet, chopsticks that are attached together at the top is what you need.
Beautiful Chinese chopsticks with matching bowls or chopstick holders a great present to add some Chinese flair to anybody's kitchen.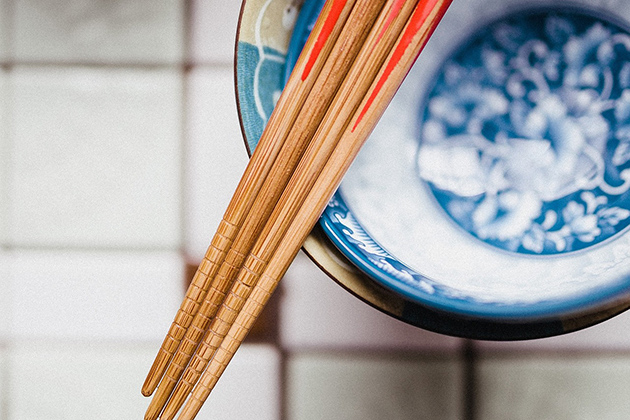 Japan Chopsticks
With images from ukiyoe, cherry blossoms and other typically Japanese things, chopsticks make a great souvenir of Japan. Chopsticks are called hashi in Japanese and available in many stores and supermarkets with various kinds including sets chopsticks and chopstick rests, as well as chopsticks that are dishwasher friendly. Chopsticks with a colorful pattern is an ideal item for thoughtful housewives.
The prices of chopsticks fluctuate around 100 yen to 10,000 yen depending on the quality of products. You can buy chopsticks at all sorts of stores, including 100 yen shops, souvenir stores, and department stores.
Vietnam Chopsticks
Different from Korean chopsticks which are often made of metal, or Japanese chopsticks which are often colorful toward one end, Vietnamese chopsticks are often made from wood or bamboo. The weight is often light but enough to pick up the food without giving the impression of fragility. Different restaurants have different types of chopsticks and those used in the family will often have the best quality.
In Vietnamese kitchen, a longer and thicker type of chopsticks is used to help the cook prevent overheating her hands from the stove. This is used instead of the ladle and extremely useful when it comes to flipping spring-rolls.
Vietnamese chopsticks can also make a great gift for those who want to bring an essence of the country back with them. These gifts are often wrapped nicely in bamboo-made cover and tied together with a bow or colorful string. They are sold for less than $4 in souvenir shops in most major destinations.
Tea – China, Korea
China Tea
Because tea plays such a big role in daily life of Chinese people (from tea brewed in people's flasks at their office desks to high-end tea ceremonies with special tea), tea quality varies throughout different shops too. If you want the normal tea that people drink on a day to day basis, check convenience stores and supermarkets. In many supermarkets, it will even be possible to buy many different types of tea by the gram.
If you're in the bigger cities, check out the tea markets (Maliandao in Beijing, Tianshan Tea City in Shanghai, or Wukuaishi Tea Market in Chengdu) for special tea or for other tea-related products such as teapots, cups, and the entire set needed to set up your own ceremony at home. Most shops will have a wide range of designs to fit any taste!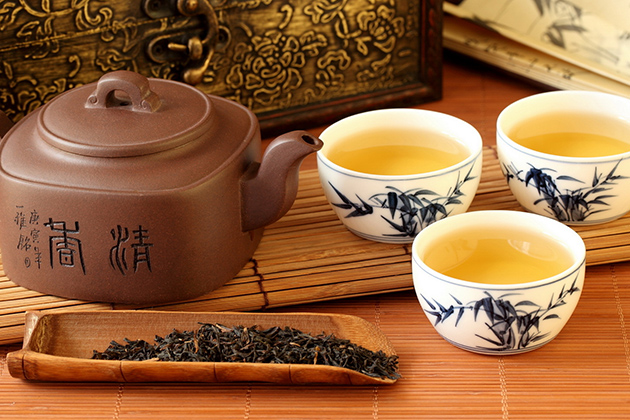 Korean Tea
Tea is a souvenir that is infused with tradition as well as flavor. Traditional teas like omija (5 taste tea) and meshil (sweet plum) are still widely consumed by Koreans. You should most definitely make a stop to traditional teahouses (also known as chatjip) to experience the Korean tea-drinking culture. Other than bringing home tea as souvenirs, consider getting the whole tea set if you know any tea-junkies back home.
Traditional costume
Vietnam – Ao dai
If you are finding a special Vietnamese gift for family members or friends, Ao dai is the best choice. Since the 18th century, the ao dai has been Vietnam's national costume. There are three main styles of ao dai nowadays.
"Trendy" ao dai reach to the floor and fit the curves of the body by using darts and a nipped-in waist; the "hippy" ao dai is brightly colored and very popular among young teenagers; and the "mini" ao dai have slits extended above the waist and the panels reach only to the knees.
The usual way to acquire an ao dai would be to pick the fabric first. Usually, there are two different colors, one for the long dress itself and a second contrasting color for the trousers worn underneath. After the fabric is chosen, you bring it to a tailor specialized in creating ao dais. It takes around one week until you can pick up the finished product, but please keep in mind that during the preparation for Tet (lunar new year), it can take significantly longer.
Local Insight: An ao dai costs at least VND 700,000. If you can spend the time and have experience finding decent cloth and a good tailor for ao dai, you might have your stylish ao dai at a reasonable VND 1,500,000.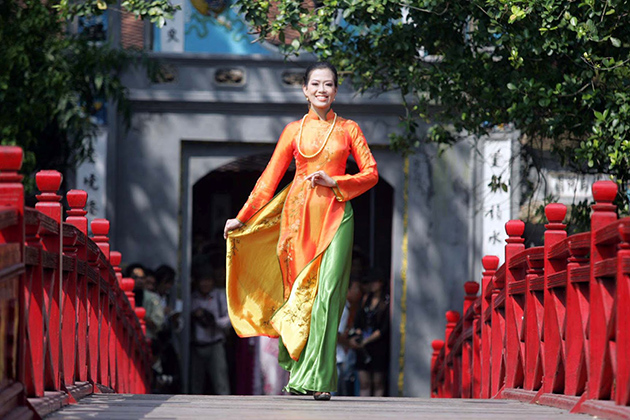 Myanmar – Longyi
Longyi is a comfortable traditional skirt that is worn by both the Burmese men and women, it is a wrap around skirt that is either made in simple cotton fabric or more sophisticated silk thread, in both ways it is equally comfortable. When worn by men, it is called Paso and in case of women, it is called Htamein, it comes in different designs from the plain simple fabric to printed one. Longyi skirts is a great attire to wear during your stay in Myanmar as well as a great gift and souvenir for a Myanmar idea to take back home.
Japan – Yukata
The Yukata is a type of kimono that usually made with thin cotton and worn when sleeping or during the summer. Meanwhile, kimono are usually made of a variety of materials including cotton, wool, and silk, and are usually worn at formal events, such as a new year's or at wedding ceremonies. Yukata are easy to put on, which makes them a great gift to experience Japanese culture.
Both buying and putting on a kimono can be quite a challenge, but yukata are generally not that expensive and can be put on quite easily, which makes them ideal as a souvenir. For men, there is a garment known as a jinbei that is equally easy to put on as a yukata. As wearing wooden sandals known as geta can harm your toes, it is probably best to choose a set that comes with both an obi belt and zori sandals. You can find yukata at a wide variety of prices, with sets ranging from a few thousand yen to several tens of thousands of yen.
We recommend looking for a more traditional type of yukata, rather than the more recent patterns aimed at young Japanese people.
Ceramics and Pottery – Thailand, Vietnam
Thailand Ceramics and Pottery
Thailand is well known for ceramics, with the country's artisans producing several types. Two of the most famous are Bencharong porcelain and Sangkhalok stoneware. The Chiang Mai province is also home to many celadon factories if you're in the area. You'll find ceramic and pottery products across the Kingdom at plazas, department stores, or in special ceramic and pottery shops.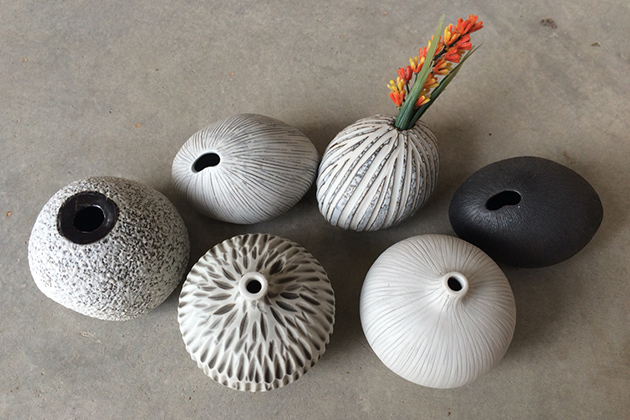 Vietnam Ceramics and Pottery
Ceramic products have long been a typical souvenir of Vietnam. The idyllic life of Vietnamese people is exquisitely portrayed as painted illustrations on these porcelain cups. They come in all shapes, sizes, and colors. There is no doubt these handcrafted items and their products have turned into a tourist attraction for foreigners who are enchanted by Vietnamese culture. Tourists in Hanoi Capital can take an interesting short trip to Bat Trang pottery village to buy elegant souvenirs and become a ceramic artisan for the day.
Sand Paintings – Myanmar, Vietnam
Myanmar Sand Paintings
Any visitors when traveling to Bagan (Myanmar) are always offered with sand paintings. In Bagan, visitors can easily catch pagodas and temples surrounded by sand paintings seller.
The paintings express cultural life and people of Myanmar, or the life of Buddha; including the calendar of the Burmese (Myanmar people believe that every day of the week is related to an animal, for example, the person was born on Monday corresponding to the tiger).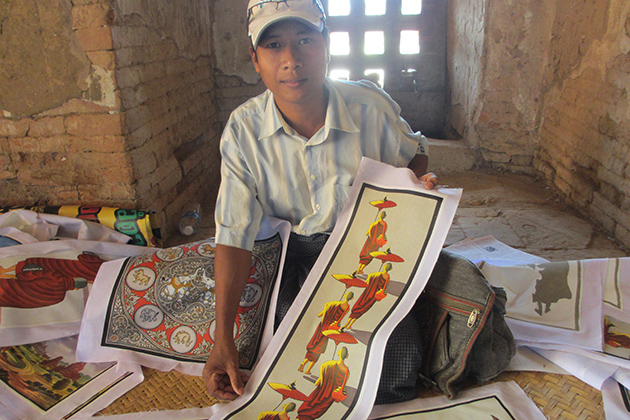 Vietnam Sand Paintings
Sand painting is the art of pouring colorful sand and powdered pigments on a sticky surface and fixating it later with spray, so it doesn't come off again. Nonetheless, you can find a second art form which is called sand painting in Saigon. Colorful sand is poured into a special mug or vase or between two glass panes by the artist. The layers of sand form a captivating piece of art, that looks dazzling on every shelf and makes a perfect souvenir. There are 4 main categories of Vietnamese sand picture: landscape, portrait, labor scenes and the traditional art of calligraphy.
The price for artful sand paintings fluctuates around VND 500,000.
Stationery Products– Japan, Korea
Japan Stationery Products
Japanese stationery is a good choice for souvenir because it is famous for various kinds of high quality and ease of use. We recommend some of the more unique items, such as ball pens which can be erased (about 200 yen) or staple-less staplers (400 yen to 2,000 yen). With the name service, you can make your gifts much more personal. Your friends surely will be surprised when receiving gifts with their names printed on it. Some place we recommend for you to buy Japanese stationery are ITOYA, Tokyo HANDS and department stores.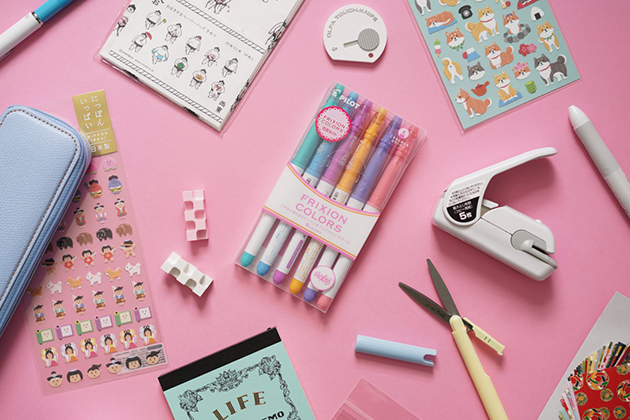 Korea Stationery Products
In Korea, you can find the cutest pens, markers, notebooks, and planners. Make a trip to an ArtBox outlet to grab some affordable stationery for yourself and your friends. While at it, grab some stickers too because why not? You should hand it to the Koreans for their creativity in churning out cuteness-overload stationery.
Embroidery – Vietnam, Korea
Vietnam Stationery Products
The art of hand-embroidered pieces of clothing and framed silk pictures is one of the oldest Vietnamese handicraft traditions. Picturesque natural scenes like flowers, trees, animals, and birds are sources of inspiration for embroidery. But also daily life scenes, even portraits can be created with this ancient technique. Tourists are impressed by the vast variety of designs, offered in hand embroidery shops, the vibrant colors and the intriguing depth of the artwork.
In some shops, tourists can explain or sketch their individual idea to the artist, who creates a personalized present for friends and family. Visit Dalat to explore a workshop & the gallery for awesome and skillful hand embroidery images upstairs in the central market.
You can buy a small hand embroidered product for around VND 500,000. For bigger pictures, the price can be VND 2,000,000 and above.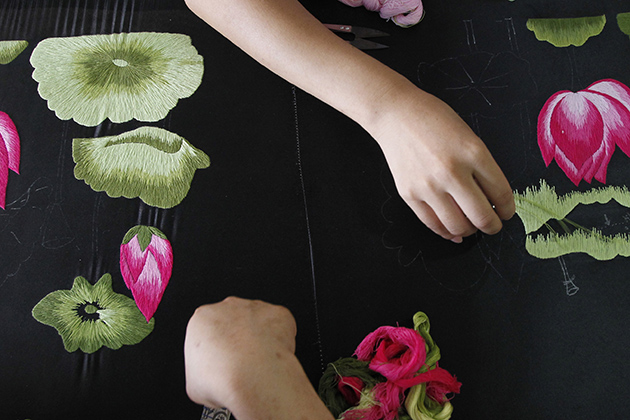 Korea Stationery Products
Though traditional Korean embroidery is slowly disappearing, there are a few artists who still try to preserve it. Embroidered pouches, ladies wallets, and bags are commonly found in the local stores. Glass cases and aprons are also available in embroidered designs. These are not only beautiful to look at, especially those featuring flowers and animals, but they can also be functional.
Sweets – Japan, Thailand
Japan Sweet Products
Japan has various unique types and flavors of sweets. As well as traditional Japanese sweets, known as wagashi, we recommend the everyday snacks and sweets that you can find in local supermarkets and convenience stores as souvenirs, as well. Some salty snacks or spicy snacks are the best gifts for your friend who love drinking or spicy snacks. If they have a sweet tooth, we recommend chocolate or buttery sweets (such as Pocky or Kinoko-no-yama.) You can find these sweets for about 100 to 300 yen.
Japanese sweets are packaged in small individual packets to easier to share and make them more popular.
Thailand Sweet Products
You'll have discovered many of Thailand's mouthwatering sweets and unique treats by the time you leave. You would be mesmerized by various kinds of sweets there from coconut candies, sweet bites made from mashed mung beans, curry pastes to rambutan jam. Candies are a sweet souvenir for family members or friends with reasonable prices. In Thailand, the chocolates come in various shapes such as the elephant-shaped and traditional Thai Tuk-Tuk, etc.
For those who desire to bring the taste of Durian home, dried and vacuum sealed Durian fruit are available at airport duty-free shops. Whether it's a sweet or a treat, we'll leave that up to you, but it's unique. Dried Durian also makes for an interesting gift for friends back home.
Recommended Asia Gifts and Souvenirs
Conical hat – Vietnam
Non la is made of bamboo cataphylls which enchant tourists with its romantic adornments. The non la is more than an indispensable tool for people in Vietnam: it has become a cultural symbol. The style differs by region, so for example, those of the Tay people have a distinct color, while in Thanh Hoa they use only a 20-hem frame. Hue's is thin and elegant, while Binh Dinh's is thick.
Vietnamese wear the non la all year because it protects the wearer from rain and sunshine. At a workshop, you can get a hat for only VND 3,500 – VND 10,000. Depending on the quality, the price at souvenir shops ranges between VND 30,000 and VND 100,000.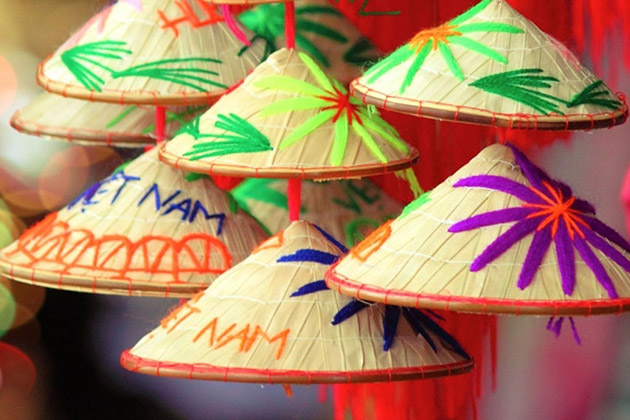 Food sample magnets and key rings – Japan
Cafes and restaurants are the heaven of food samples in Japan. These samples are carefully made by craftsmen to look identical to the real thing. You can buy these food samples at many souvenir shops in Japan but to buy dedicated food samples you should go to stores in Tokyo's Kappabashi area. Many different types you can choose such as cute sweets, cakes, tempura, and ramen. The prices range from a few hundred yen to a few thousand yen. Giving your friends the kind of sushi food sample they like will make them extremely happy. You can also find small magnets or key rings of the dishes as well. Key rings of the dishes or small magnets are available there.
Korean cosmetics
One of the best gifts for your beauty-conscious friends is Korean cosmetics which are hot around the world. Don't worry if you do not know exactly which brands to buy, you can't go wrong with these cult Korea beauty brands – ranging from Innisfree to Laneige. BB creams are the best sellers among cosmetics, give them a shot if you haven't already. The best way to get good cosmetic products does not forget to check reviews in advance!
Artworks & Paintings – Vietnam
Vietnam has a unique culture heavily inspired by the traditional country lifestyle and pure spiritual beliefs. Even though the country has revolutionized and transformed into a modern society, the traditional culture has ingrained deeply into mindsets of local people. Especially, reflecting the past are Vietnamese artworks with countless brush strokes paint the authentic old breath. Enjoy a stroll along Hanoi Old Street, cross over some street vendors, and visit Nguyen Art Gallery – one of the best artwork galleries in Vietnam.