Vietnamese cuisine which contains a wide range of delicious dishes always makes a firm impression on tourists all over the world. The national dishes feature the harmony between aromatics, colors, sweetness, sourness, and spiciness. Especially, Vietnamese food is considered as one of the healthiest cuisines in the world due to its fresh ingredients in combination with a comparative low in fat and high in carbohydrates. The balance between rice, vegetables, fresh herbs, meat, and condiments not only creates a distinct difference for Vietnamese cuisine but makes anyone's mouth water.
The description below would provide you detailed information concerning typical Vietnamese dishes before you go on a Vietnam shore excursion.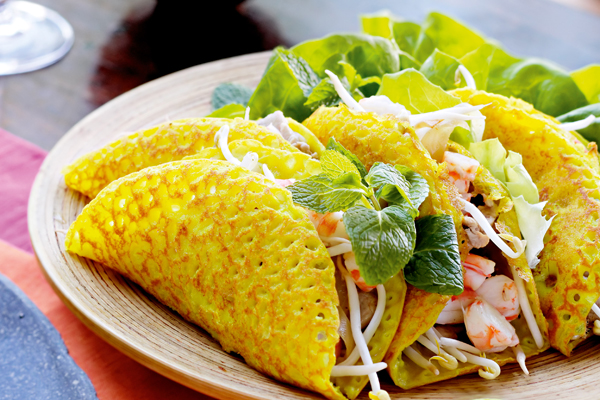 Traditional Food to Eat in Hanoi & Northern Vietnam
Vietnamese Pho – Noodle Soup
The soul of Vietnamese cuisine is Pho. This national dish is made with long flat rice noodles in the hot broth of beef or pork bones. The flavor is sweet, fatty, and fragrant with traditional Vietnamese herbs and spices such as onions, bamboo shoots, chili, and so on. Pho has many kinds to taste including chicken and beef with rare, medium & well-done. Includes noodles, broth, beef (or chicken) with a selective use of condiments such as pepper, nuoc mam (a fermented fish sauce), soy sauce, lime juice, etc.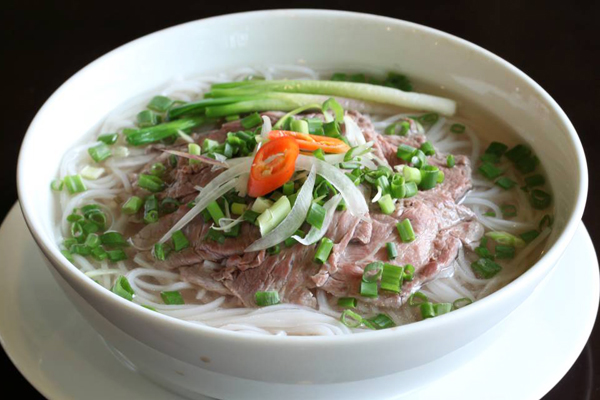 Nem Ran – Deep-fried Spring Rolls
Not only be considered as a Northern Vietnam dish, but Nem Ran also in the south has a different name – Cha Gio. No one knows when and how this dish has been created. Seem like Vietnamese was born to know that every meal in New Year Eve has a dish of Nem Ran. To prepare and cook this dish, it takes time and skillfulness in rolling the abundant ingredients into an extremely flat rice paper. The ingredients for Nem Ran can range from many things depending on eater's favor. However, there are some indispensable ones such as pork, two kinds of mushroom – Fragrant Mushroom and Moc Nhi, onion, eggs, pepper, salt, carrot, bean sprouts, and many others. Sometimes they also put into traditional herbs with a good smell like coriander, basil, and mint. All of the ingredients are cut into small pieces before mixing together. Then, they are wrapped with a flat rice paper and fried in boiling oil into having a delicious smell and look. Seasoned meat and shrimps combined with shredded vegetables, mushrooms, glass noodle, and eggs, wrapped in rice papers and deep fried afterward. Serve with dipping fish sauce, fresh vegetables, and herbs.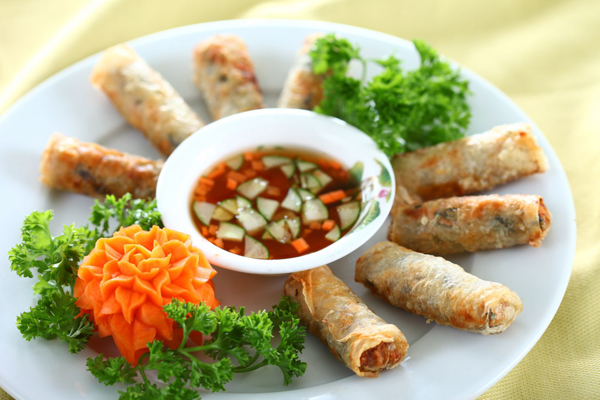 Banh mi – Meat Bread
This dish has the origin from France and entered Vietnam dated back to the colonial time of Indochina. When in Vietnam, banh mi has many changes that can be considered as a new version of the French-Vietnamese style. Besides remaining some features of French version such as sliced pork, mayonnaise, chili sauce, and ketchup, Vietnamese version has the evolution including traditional herbs like coriander, basil, and cucumber pickle. Instead of meat, there are some other kinds of banh mi such as egg and sausage. Banh mi can be easily found in many street vendors and stalls. A crusty baguette that's sliced in half and stuffed with layers of pork, pâté, mayonnaise, a handful of sliced cucumbers, Vietnamese radish and carrot pickles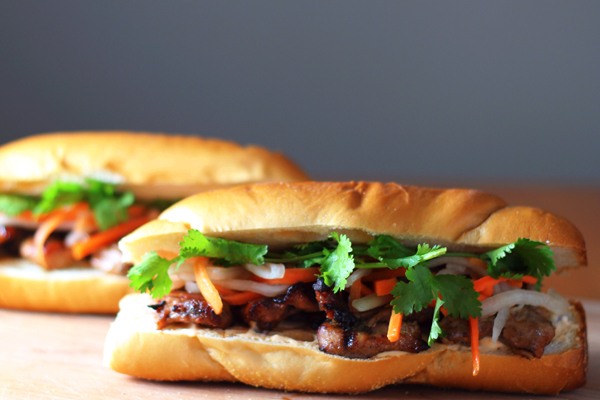 Xoi Xeo – Sticky Rice with Steamed Green Beans
Sticky rice is a traditional ingredient in Vietnam that you can see in most important events of Vietnamese such as New Year Eve, ancestors worship day, wedding, and funeral. Xoi Xeo is a special kind made of sticky rice, steamed green beans, and fried onions. Xoi Xeo now is sold in many street vendors run by locals serving as a healthy breakfast for both children and adults.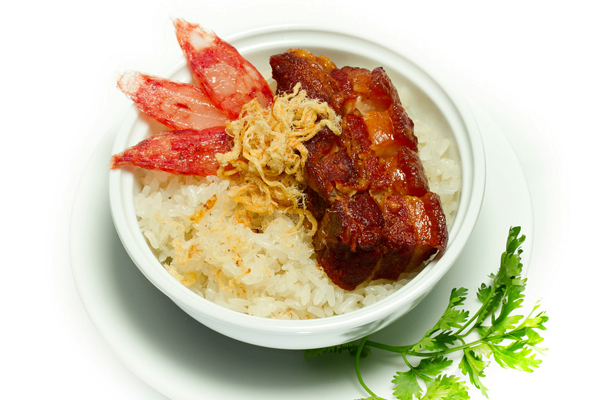 Banh Cuon – Steamed Rice Pancakes
Another breakfast dish that is favored by most Vietnamese people is Banh Cuon. The way to make this dish is unique. The pancake is made of liquid rice flour spreading on a hot flat surface to solidify into a perfect layer of pancake. Banh Cuon is usually tasted with cha gio, minced meat, and special mushroom. The pancake is rolled and cut into medium pieces. Sample the soft and smooth rice pancake soaking in special mixed fish sauce coming with the fatty but delicious meat flavor. Enjoy some slices of fried onion to get the original taste of Banh Cuon.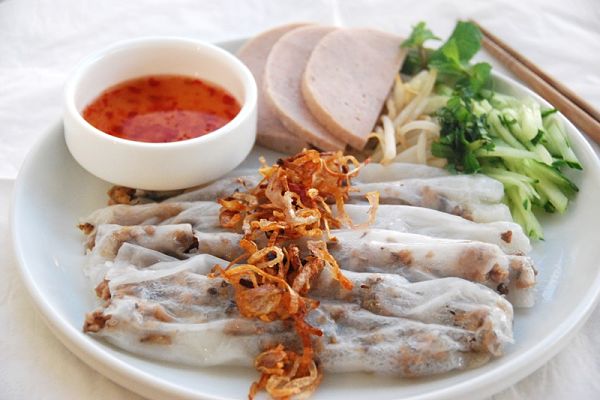 Banh Tom – Crispy Shrimp Pastry
Banh Tom is not only a northern dish, but the best is in Ho Tay Restaurant located in the West Lake of Hanoi. The dish is made of fried flour and shrimp pastry coming with sweet, salty, and sour fish sauce. Enjoying this interesting dish while looking over the picturesque West Lake and greeny Thanh Nien Street is one of the most worth-trying experiences in Hanoi shore excursions.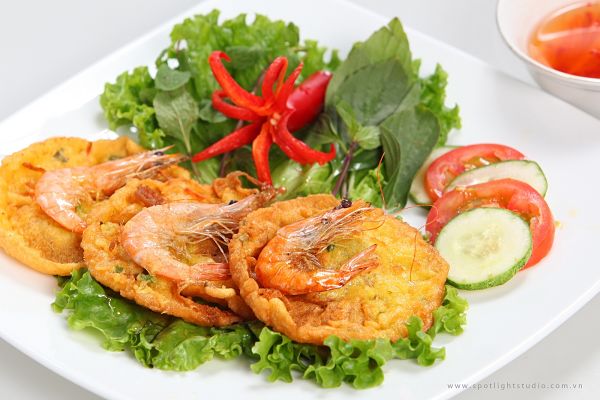 Sea snails
There are 20 kinds of sea snails with distinct flavors that are enjoyed in different ways with only a bowl of nuoc mam with ginger, peppers, and lemongrass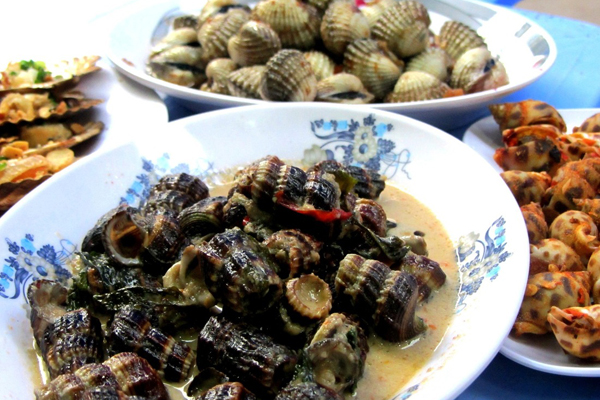 Traditional Food to Eat in Hoi An, Da Nang, Hue & Central Vietnam
Com Hen – Rice with Mussel
White rice is an essential part of every Vietnamese meal. To avoid being bored by eating rice day by day, local people have transformed the rice into many other dishes. In Hue, the most popular dish made of rice is Com Hen – rice with mussel. Having the origin inspired by the savings of Hue people avoid wasting leftover rice, the dish is served with mussel, cut bamboo shoots, pork, star fruit, scallion, chili, sesame, and some other Vietnamese herbs. Waken your sense with the spicy flavor coming before a wonderful feeling of Vietnamese cuisine. Rice, boiled mussel, star fruit, fish sauce, cabbage, onion, pepper, peanut, chili, and a variety of herbs are ingredients.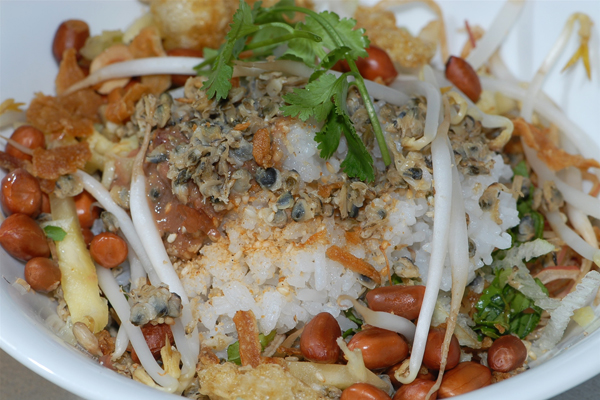 Bun Bo Hue – Hue style beef vermicelli
Another specialty of Hue is Bun Bo Hue – special Hue-style beef vermicelli. The name cannot tell all about this dish. Bun Bo Hue is excellent or not depending on how to experience the chef is. Besides vermicelli and sliced beef, other ingredients for Bun Bo Hue are pork legs, cha gio, boiled pig blood (sounds scary but they cook it deliciously that you cannot realize what it is), bamboo shoots, scallion. However, the star of this dish comes from the broth made of bones boiled for hours. The broth is prepared by simmering beef and bones for a long period of time; thin slices of beef shank, chunks of boiled oxtail, and pig's knuckles or pork and a wide range of spices are added into the bow.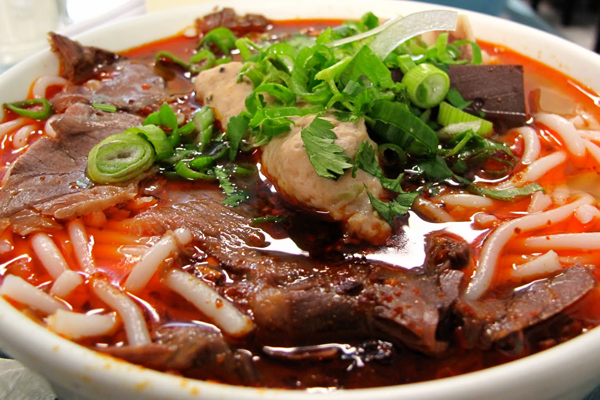 Cao Lau – Hoi An-style Pork Noodle
Cao Lau is a specialty only served in Hoi An. This dish includes special noodles, some slices of barbecue pork, scallion, bean sprouts, basil, and coriander. The secret is in broth must be collected from a Cham well, then mixed with little tree ash to take a yellow tinge and slightly firm texture.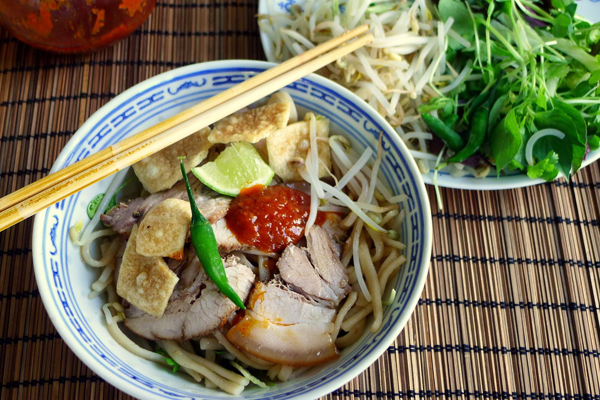 Tom Chua – Hue Sour Shrimp
Hue cuisine is uniquely charmed with many dishes. One of the most exclusive dishes is Tom Chua – Hue-style Sour Shrimp. This dish can be bought in many local markets as a special souvenir for Hue shore excursions that locals put sour shrimps and yarns of bamboo shoots & raw papaya into a glass jar.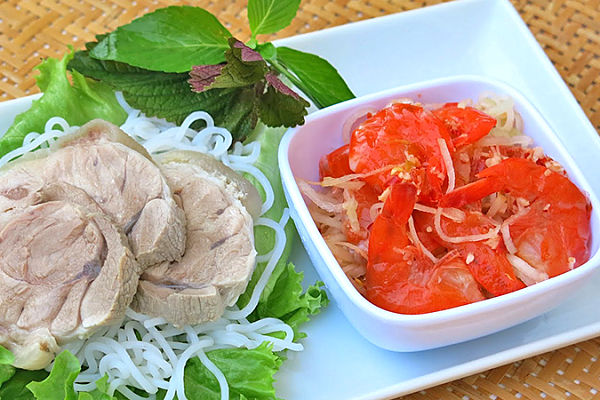 Traditional Food to Eat in Ho Chi Minh City, Nha Trang & Mekong Delta
Banh Trang Tron – Rice Paper Mixed
This street food is widely sold in most vendors of Ho Chi Minh City which is the favorite dish of students and young generations. Rice paper is mixed with sour mango, jerky, quail eggs, peanuts, and cumquat sauce.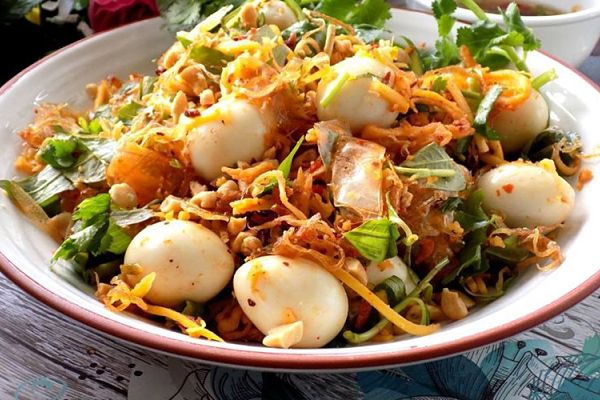 Hu Tieu – My Tho Noodle Soup
The food-holic can easily find out the difference among My Tho seafood noodle soup, Chinese noodle soup, nam vang soup, and Hue beef noodle soup because of its special ingredients such as soybean, lemon, chili, and soy sauce instead of herbs and lettuce. Dating back in the 1960s, the rice noodles were firstly served with a secret recipe in an eatery in My Tho, 70 km from Ho Chi Minh city. Since then, its fame has expanded far and wide, as a result, Hu Tieu becomes a very popular meal in Vietnam. That would be more savory if noodle soup is made of Co Cat rice, the most famous rice growing in some village in My Tho.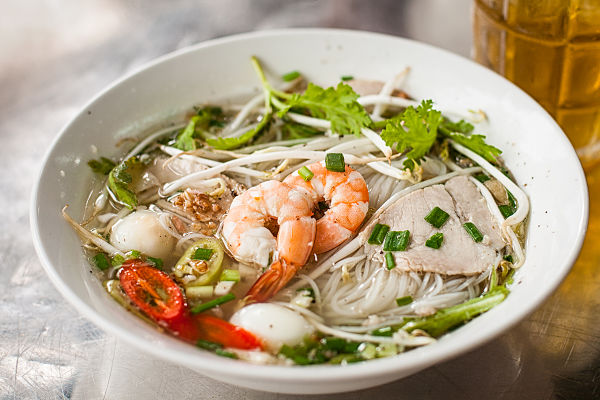 Goi Cuon – Fresh Spring Rolls
In most local Vietnamese region, it commonly meets fried, grilled or boiled food, that is why Goi Cuon is added in the list of favorite dishes. Goi Cuon, also called "summer rolls", occasionally reminds people tasting a little bit fresher. To make a scrumptious spring roll, we have to pack with crispy salad, prawns, pork, and cannot miss out a sweet-and-spicy dip topped with peanuts.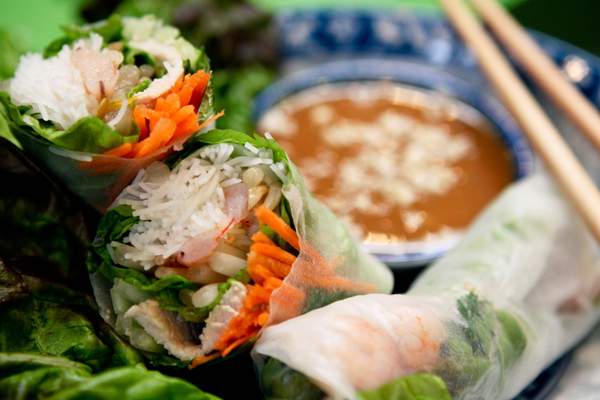 Canh Chua – Fish Sour Soup
Canh Chua, originally from the Mekong Region-particularly in Dong Thap Muoi, is a kind of fish sour soup made of fish and so dua flower. The right time to taste this dish is at the end of the rainy season when the so dua flower blossoms. Canh Chua will be more luscious when dining immediately after you complete.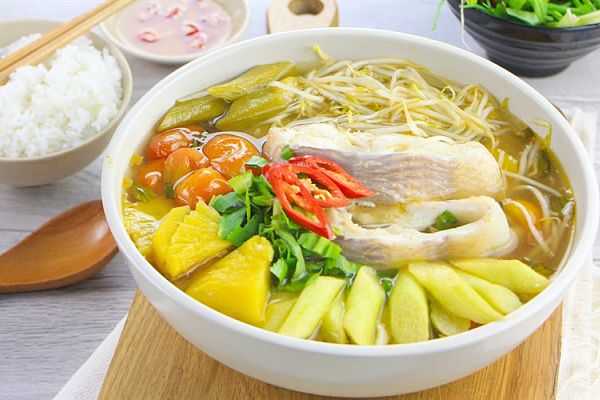 Banh Trang Cuon Thit Heo
Pork and vegetables wrapped in soft rice paper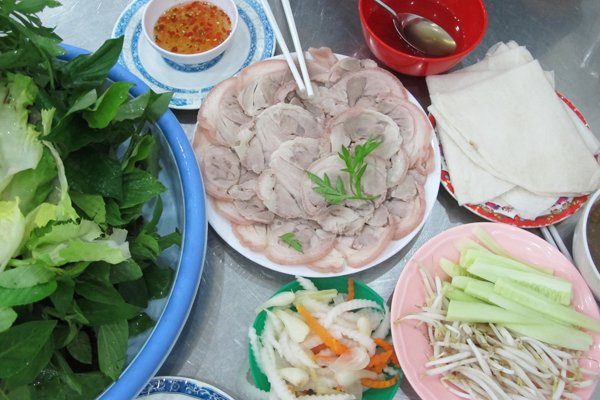 Bo Bia
A roll is filled with thinly sliced jicama and carrots, omelet ribbons, xa xiu (Chinese sausage) and dried shrimp