Located in the northern section of Jeju island, Yongduam Rock is widely known as the Dragon Rock and listed as a "must-visit" spot on almost all tourists' itinerary. It was created by strong winds and waves over thousands of years. However, there are plenty of other stories of how it came to be. One legend has it that a dragon stealing a sacred jade stone from Mt. Halla was shot down by an arrow from the mountain deity. When he fell down on Yongduam, his body immediately fell into the ocean and his head rapidly froze looking at the sky.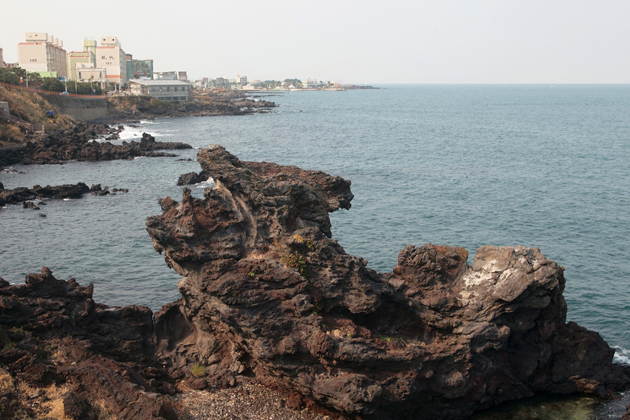 There are an exciting variety of cafes, bars, and restaurants near the rock. The coastal road between Aewol-eup and Yongduam is a popular destination for couples. Cafes and seafood restaurants began to appear there five years ago and now form a pleasant café village. Drink a cup of coffee at the café village and driving along the scenic coastal lines, visitors can encounter Iho Beach where black rocks contrast with the emerald-blue ocean, Hagwi Coast, and Aewol Port. Aewol Port is also home to small seafood restaurants and fishing boats coming in and out, adding flavor to the shore excursion.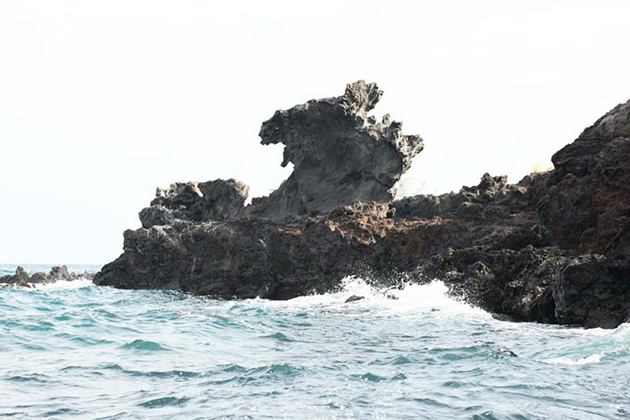 Further from the port is one of the most popular beaches on Jeju Island, Hyeopjae Beach, showcasing the deep royal-blue sea throughout the year with splendid white sand. Additionally, from Yongduam, tourists may see harubangs, a statue of a mermaid and especially the haenyos, female divers, who sink into the deep water of Jeju to catch seafood without any underwater diving equipment. There were also several souvenir shops that sell harubang figurines and chocolate made in Jeju.