The Yuexiu Park is located in the middle of Guangzhou City. Regarded as the largest park in the city, Yuexiu Park occupies over 850,000 square meters, including three artificial lakes and seven hills of Yuexin Mountain. It is a magnificent combination of ancient relics and restrained landscape with the fascinating sites such as the stone sculpture of the Five Rams, Zhenhai Tower, the site off Ming Dynasty City Wall, and Square Cannon Site.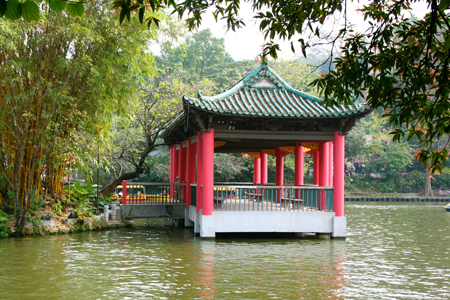 Undoubtedly, the Five-Ram Sculpture is the most famous landmark which is considered as the emblem of the city. Placed in the park in 1959, the structure has an interesting legend behind it. It is said that 2000 years ago, Guangzhou was a barren land and its residence had to face many hardships. One day five immortals in five color garments came riding on five rams and brought the fortune to the land. Afterwards, five rams turned into stone and Guangzhou became a thriving city. That's reason why the city is also called the City of Rams.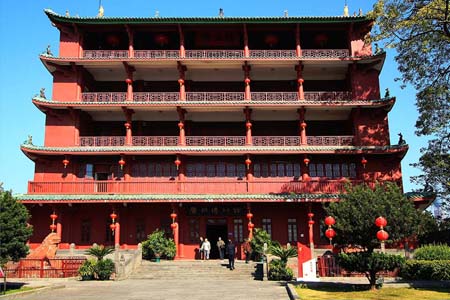 Built in 1380 under the Ming Dynasty, Zhenhai Tower was a watchtower. Since then, the tower was destroyed five times and rebuilt five times. The five-storey pagoda set amidst the Yuexin Hill, which tourists can have a 360 degree view of the city. Inside the tower is the City Museum, which is devoted to the Guangzhou's history. Apart from the cultural value, Zhenhai Tower also has an elegant architectural style with green glazed titles and red walls.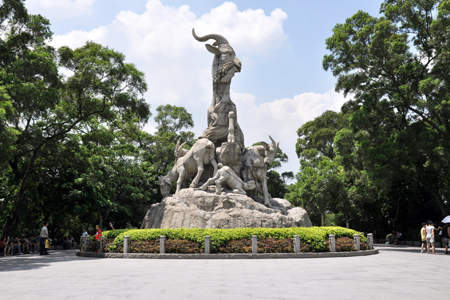 While the historical traces create a tranquil beauty, singing birds and blooming flowers make the park more vivid and more scenic. The Yuexiu Park covers three artificial lakes Dongxiu, Nanxiu, and Beixiu – occupy more than 50 square meters. For artists, elegant Dongxiu Lake and Nanxiu Lake are places of inspiration while Beixiu Lake is dedicating to outdoor activities like boating or fishing.