Located at the heart of Shanghai, not far from the Bund, Yuyuan Garden is a 450-year-old garden built by an influential government official in the Ming Dynasty in an attempt to please his parents in their high ages. That's the reason why the name of Garden is Yuyuan which means "Garden of Peace and Comfort" – a place of peace and comfort in the heart of busy Shanghai.
Covering an area of 20,000 square meters, the Yuyuan Garden was the largest and most prestigious of its era in Shanghai after being completed. It boasts elegant pavilions, zigzagging bridges and imposing rockeries. Besides, the century-old furniture, calligraphic and painting works of famous artists, clay sculptures and brick carvings as well as some inscriptions and couplets are the captivating things of the Garden.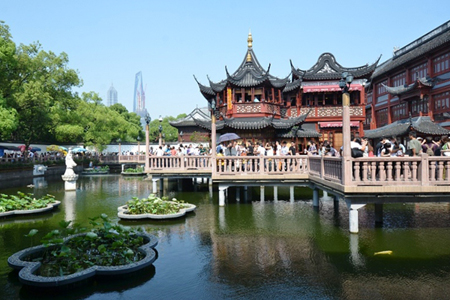 It's divided into six main scenic areas: Three Ears of Corn Hall, Ten Thousand Flower Tower, Heralding Spring Hall, Scene Gathering Tower, Jade Magnificence Hall and Inner Garden. Each area has its own unique features. But the true treasure of Yuyuan Garden is Exquisite Jade Rock located across from Yuhua Hall. Deemed one of three most renowned rocks in China, the Exquisite Jade Rock is about 4 meters in height and weight 5 tons. The intrinsic features of the rock are wrinkled appearance, slender shape, translucent nature, and numerous holes eroded by water. And don't miss the chance to discover its interesting legend!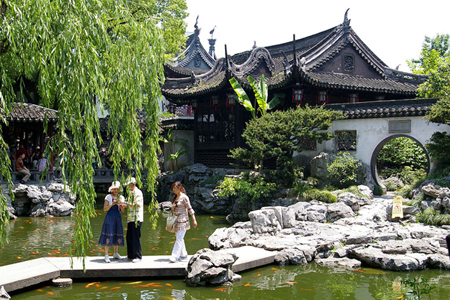 With elegant pavilions, zigzagging bridges and imposing rockeries, Yu Garden is truly a jewel in China's ancient gardens. One tip for you: go there early (opening time 8.30am) to avoid the crowds.