Commonly known as Shanghai Old Street, Fangbang Road is an ideal place to step back in time and see what Shanghai was like in the old days. The thoroughfare is lined with two-storey open-fronted shops built in a variety of architectural styles – from the Ming and Qing Dynasty to the period when European influence made an impact on the city. The street can be divided into two sections and each section has its own intrinsic features.
The residential characteristics in the late Qing Dynasty and early Republican days are covered by the eastern section of Shanghai Old Street. On the both sides of the street, there are the houses fitted with checkered windows, and shops fronts having wooden boards, balustrades, and swing doors. Their roofs are graceful with upswept eaves which is exactly how foreigners imagine China to be. The eastern section is home to an array of shops such as florists, shoe & clothing retailers, and noodle restaurants.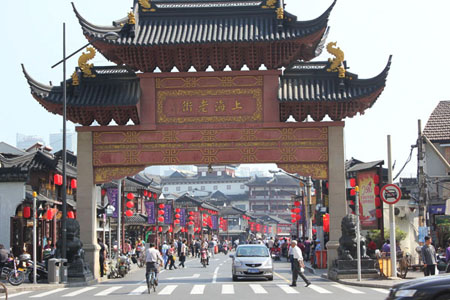 The western section boasts Ming and Qing architectural styles. The unusual features of this section are black tiles, white-washed walls, red columns and upturned eaves. Lined with a number of antique & curio shops, restaurants and teahouses, the western section captivate tourists. Roaming around the western section of Shanghai Old Street is like you are taken back to the Shanghai of 100 years ago.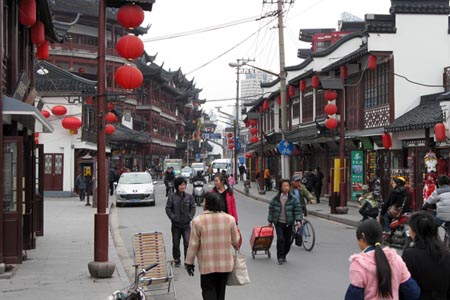 This street is also famous for the Old Shanghai Teahouse situated at 385 Fangbang Road and the Cang Bao Building, at 459 Fangbang Road. The Teahouse is where a pot of Chinese tea can be enjoyed surrounded by historical maps, pictures and fifty cheongsams and traditional ladies dresses. The Cang Bao Building is five-storey structure which is regarded as the tallest on in area and this is a great site to those who want to discover the lively weekend-markets in Shanghai.