Located on the outskirts of Shanghai, about 47 km, Zhujiajiao is a typical and ancient water town in Qingpu Districy, well-known throughout the country, with a history of more than 1700 years. Also called "The Venice of Shanghai", Zhujiajiao boasts picturesque river views, beautiful interwoven bridges, old streets cemented with stone, and over 10,000 buildings dating back to the Ming and Qing dynasties.
Endowed with another elegant name – "Pearl Stream", the little fan-shaped town covers an area of 47 square kilometers. As the other ancient towns, there are lots of fascinating and beautiful sites to enjoy and Fangsheng Bridge, Kezhi Garden and Yuanjin Buddhist Shrine are the most famous among them.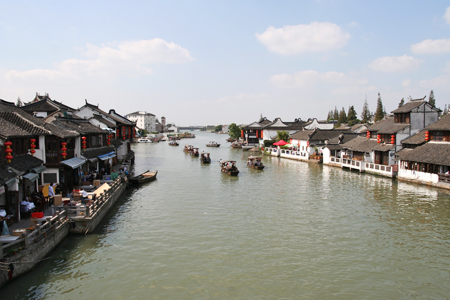 Fangsheng Bridge, which means setting-fish-free brigde, is one of the main attractions among the ancient 36 stone bridges, some only one yard wide. Erected in 1571, Fangsheng Brigde is considered as the longest, largest and tallest stone bridge, with five openings both in Shanghai region.
Nestled between the ancient architectural structures, Kezhi Park (Majia Garden), located on the North Street is one of the largest gardens in the Southern China. It is noted for beautiful sightseeing and quiet and secluded surroundings and a unusual feature of Kezhi Park is a significant symbolic architecture – foursquare five-story building standing on the top of "Moon View Pavilion".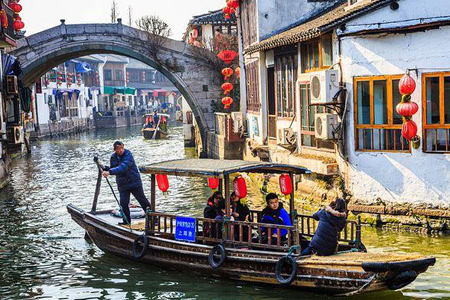 Yuanjin Buddhist Shrine was first built more than 600 years ago. Therefore, the Temple was named after the Empress but it has a statue of Holy Mother of Chenzhou. Smart in structure and the colorful design and the sense of holiness are allures of this temple.
Stroll through the town and get a real buzz from staying away from the hustle and bustle of city! You will feel like walking in an elegant and fresh painting.