Being influenced by the Asian principle of five elements and Mahābhūta, Vietnamese cuisine is considered one of the healthiest cuisines in the world. Every single Vietnamese dish is the combination of fragrance, taste, and color which you need to use all the five senses to enjoy it. Firstly, the food arrangement will definitely attract your eyes at first sight with five basic colors: green, red, yellow, white and black. Then, your nose will be immediately stimulated by food's smell which mainly comes from aromatic ingredients such as herbs. After that, the sounds when you take a bite in the cuisine that including crisp ingredients will certainly evoke the hungry in you and others.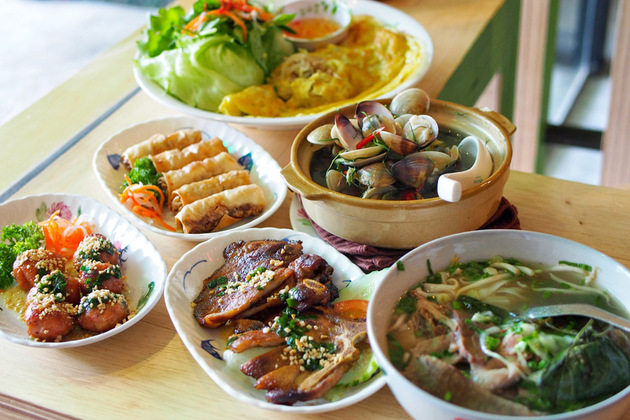 Next, when the food is in your mouth, you can taste, more or less, all the five fundamental spices in each piece which are sour, bitter, sweet, spicy and salty. Lastly, it will be a brand new experience for you to try some finger food when you can perceive the food by touching it yourself. Been through 4000 years longevity of history, Vietnamese food is absolutely a must-try thing when you visit each region to understand more their culture through their specialty. Your Vietnam shore excursions will not complete without it. So the Asia Shore Excursions will list the top Vietnamese food that tourists should try in their short Vietnam day trips to take time.
Vietnam's Signature Dishes
Pho (Noodle Soup)
Nothing to argue that Pho is assuredly the representative dish for Vietnam that this is the first dish tourists will try for their first day in Vietnam day tours. Comprising rice noodles in a flavourful soup with meat which normally is either beef or chicken, Pho is such a popular street food. Besides, Pho always goes with nuoc cham (fermented fish) or chili sauce topped with bean sprouts, lime wedges and fresh herbs like basil, mint, and cilantro that you can add anything you want depending on your interest. Even if you put everything, it just makes the dish more delicious and has enough all five elements, so don't worry. Moreover, Pho originated in northern Vietnam, you should have the Hanoi day trips to enjoy the most traditional Pho. Or else, you can go down to the south, the Phu My shore excursions to Ho Chi Minh City will definitely help you try a brand new style of Pho.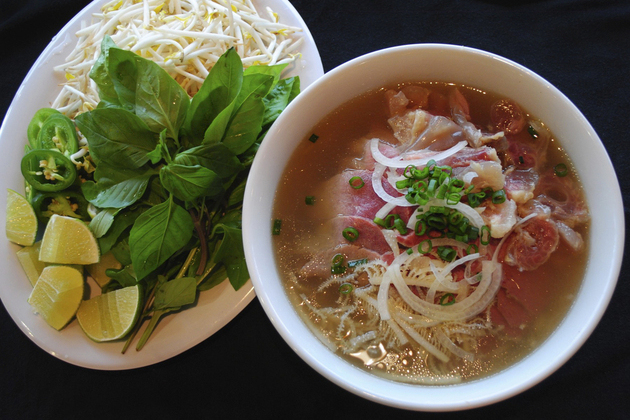 Banh Mi (Meat Bread)
Having been consistently ranked as one of the world's best sandwich, Banh mi is an airy and crunchy French-Vietnamese sandwich. Banh mi has everything you need for a convenient and cheap meal with a wide range of options for meat such as roasted pork belly, fried egg or boiled sausages; vegetables like pickled vegetables or cilantro and sauce such as soy sauce and chilies. Different region of Vietnam will offer tourists different types of Banh mi. When going in the Vietnam shore excursions, tourists will hear most about Ho Chi Minh and Hoi An shore excursions – the two best tours to go for Banh mi. Try Banh mi yourself and then you will know why Anthony Bourdain called the Banh mi as "That's a symphony in a sandwich"!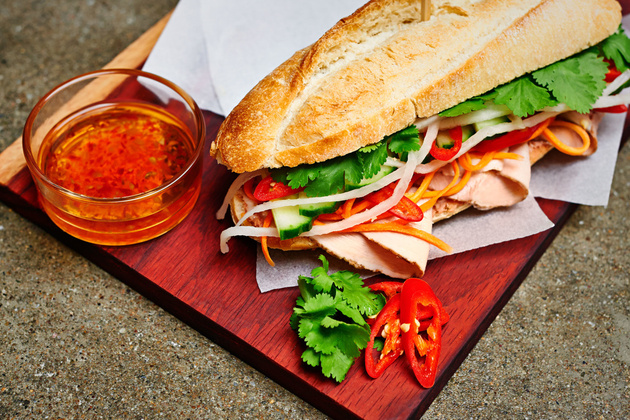 Vietnam's significant noodles
Bun Bo Hue (Hue Beef Noodle) 
The most popular noodles in Vietnam that everyone will think about first is Bun Bo Hue. As its name mentions, this famous noodles' origin is from Hue – the former capital of Vietnam. Even though "Bun Bo Hue" means "beef noodle soup from Hue", it is only 10 percent beef and beef bones. Pork, in some cases, cubes of congealed pig's blood, sliced brisket, crab balls topped with lots of fresh herbs as well as lemongrass, annatto and shrimp paste. Spicy, sour, salty and umami flavors are all balance in one flavorful dish. Do not miss the chance to try the most authentic Bun Bo Hue in your Hue shore excursions during your visit to Vietnam!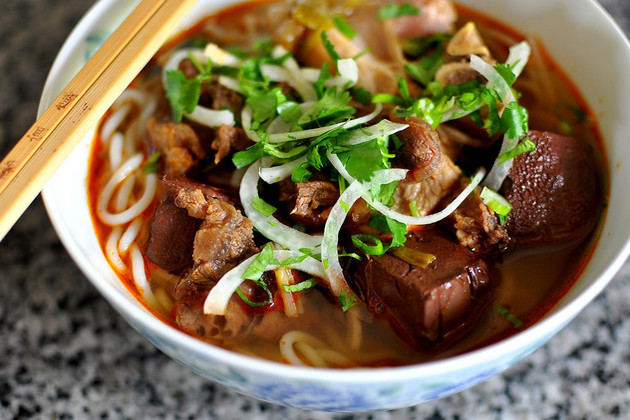 Bun Cha
In Vietnam day tours, besides Pho, Bun Cha is one of the most famous dishes in Hanoi- the capital city of Vietnam that you must try also. Bun Cha becomes even more popular worldwide thanks to the former president of U.S – Barack Obama. His picture while eating Bun cha, drinking beers with Anthony Bourdain helps the place where he ate – "Bun Cha Huong Lien" has become more and more prominent than ever. If you want to try this well-known Bun cha, remember to note it down in your Hanoi day tours just in case. Bun Cha will offer you one dish of rice vermicelli, a basket of vegetables such as fresh herbs and green papaya, one bowl of dipping sauce with minced pork shoulder to make meatballs, pork belly along with some side dishes such as crushed chili, vinegar and so on. Let's make your own unique mixture!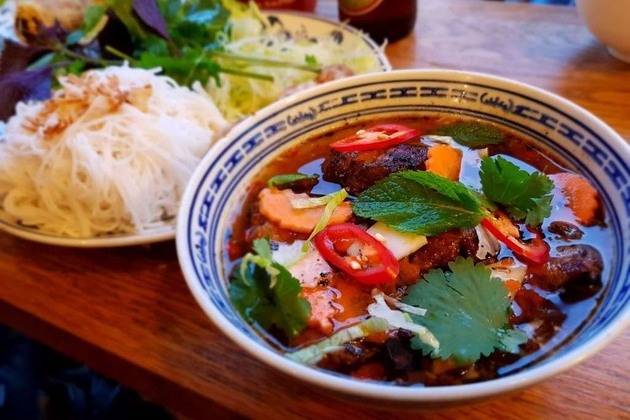 Some must-try cake in Vietnam
Banh Xeo (Crispy Pancake)
If you want to experience thoroughly how we eat a Vietnamese dish with fully five senses as mentioned above, Banh Xeo is a perfect food for you to try. Being a crispy golden crepe, Banh Xeo is stuffed with assorted veggies, shrimp and meat along with a plate of green leaves including basil, lettuce, shiso leaves and so on. Normally the local people will use the largest leave – lettuce or rice papers to wrap everything else, roll it by hand then dip it into sweet chili fish sauce and finally you can enjoy how delicious it is. When going in Phu My shore excursions, you should try this significant pancake in here. However, you can also try the different type of Banh Xeo in the north region in Vietnam day tours also.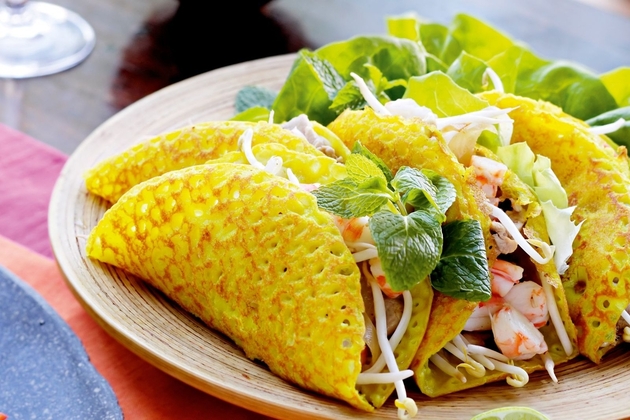 Banh Cuon (Rolled Rice Cake)
Being from Northern Vietnam, Banh Cuon is made from a thin, wide sheet of steamed fermented rice batter filled with a mixture of ground meat (chicken, shrimp, or pork), topped with minced wood ear mushroom, onions, Vietnamese ham and so on. The dish will not fulfill without fish sauce to dip it into for more flavor. Remember to eat them while they are hot and soft. One more dish should be noted down on your list for your perfect Hanoi food tours! The Hanoi day trips will not take times with the help of a tour guide or local people to find out the most authentic restaurants.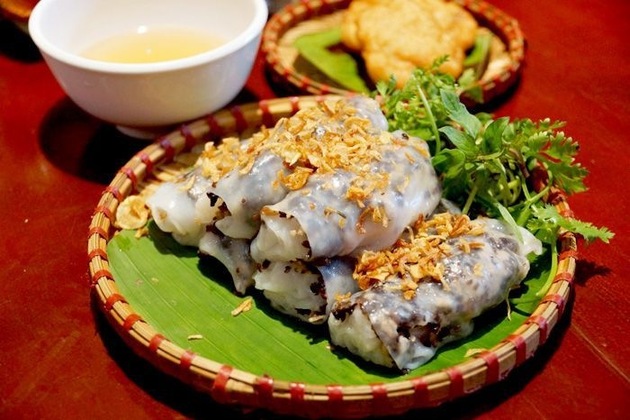 Other interesting Vietnamese dishes
Goi Xoai (Mango Salad)
Being a mouth-watering combination of sweet, sour, salty with lots of contrasts in texture, Goi Xoai has everything you need for the fresh, light and vibrant salad. Goi Xoai is made of green mangoes, julienned carrots, onions combined with shrimp or dried beef depending on your interest. It is also highlighted with fresh herbs like mint and basil, fried shallots and roasted peanuts, in some cases. Because it is very easy to find this street food throughout Vietnam, it will definitely wonderful if you can go and try it all in every region in this S-shaped-country, of course, it only can happen if your Vietnam day tours last long.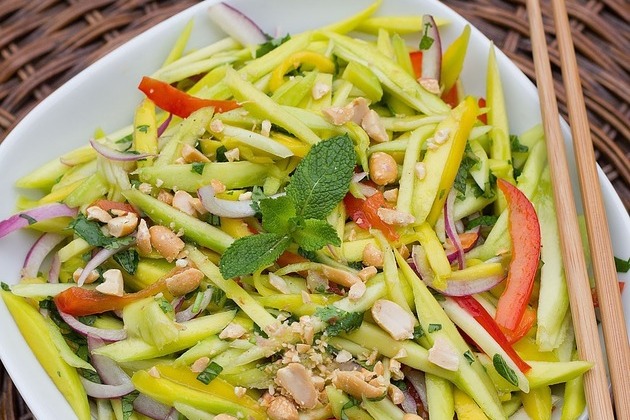 Ga Tan (Stew Chicken with Herbs)
Being said to have medician value, Ga Tan will give you an irresistible comfort especially when winter comes. Why? Ga Tan is just the perfect as well as delicious tonic you need when you got the sniffles or you want to warm yourself up from the inside out in a freezing winter. This chicken soup is stewed with a variety of vegetables and herbs makes the dark color is not really attracted to enjoy the food. However, just try a little bit first and it will certainly make you addicted and become its big fan! Ga Tan can be found everywhere throughout the capital city makes Hanoi day tours should be the first one you think about if you want to try this authentic Vietnamese delight!