Erected by Cantonese immigrants in the early 19th century in Cholon included in Ho Chi Minh City shore excursions from Phu My Port, Ba Thien Hau Pagoda (or the Pagoda of Goddess Thien Hau) is one of the oldest Chinese style temples. It is dedicated to Thien Hau, the goddess of the sea, who is revered in the southern maritime provinces of China and in overseas Chinese communities.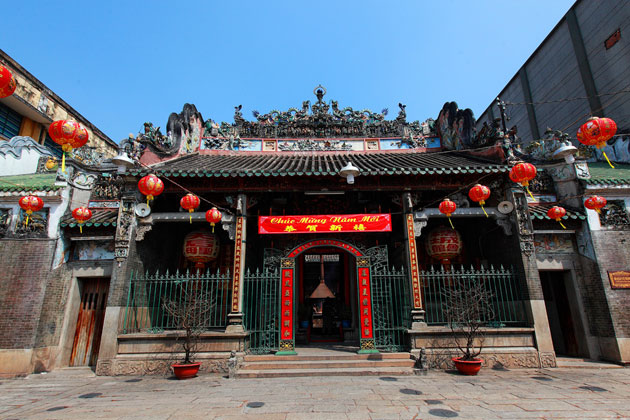 Thien Hau (more commonly named Mazu) is a deity of traditional Chinese religion, who is revered by seafaring cultures as she has the capacity of traveling overseas, by mat or cloud, to protect or rescue stranded seafarers and fishermen. Ba Thien Hau Pagoda is not only a valuable work of history, architecture, and sculpture but also an important religious site of the community of Chinese-Vietnamese in Ho Chi Minh City. On the outside, the temple roof is adorned with delicately worked porcelain figures depicting scenes from Chinese legend. Be sure to catch a glimpse into the porcelain dioramas that decorate the roof and walls. The dioramas portrays duels on horseback, arena fighting and dragons and turtles.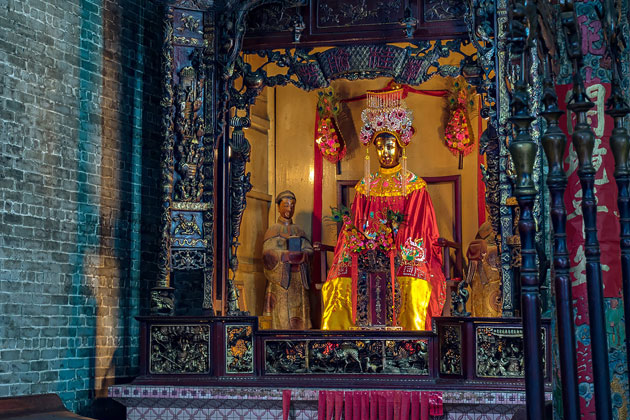 Before you even step through the exterior gate of the temple, the smoking rings of swirling incense should already be apparent. Dozens of huge conical coiled incense hang from the ceiling over the main worship area, permeating an otherworldly atmosphere with a smoky haze and an intense odor. The interior of the temple is a partially covered courtyard, at the end of which is the altar to Thien Hau, where stand three statues of the goddess. Suspended over the main worship area, in front of the altar of Thien Hau, are dozens of incense coils. Visitors to the temple frequently purchase these, attach their names to the coils, and then have them hung from the ceiling of the temple. As the incense smoke curls upwards in the air, they believe their prayers are transmitted to the deity. The festival of worshipping Thien Hau on the 23rd day of the 3rd month of the Lunar year is one of the most popular annual festivities of Chinese people in Vietnam. Ba Thien Hau Pagoda is one of the should-visiting places in Ho Chi Minh day trips or tours from Phu My port.