Thailand is a large and fantastic country to explore, so many cruise ships docking at Thailand ports more than just one night as other countries. At night, cruisers have free time to explore this fascinating land. Especially, the best way to taste the real Thailand is to visit night markets across many cities. Far from just crowds and stalls, Thailand night markets are full of unforgettable experiences with thousands of unique things that you haven't ever seen before. Expect to venture from local street food, yummy snacks, authentic hand-crafted goods, cheerful vendors, and even replica items looked exactly like high-end products such as Ray-Ban sunglasses, Adidas sportswear, and so on. For your convenient, Asia Shore Excursions would like to recommend the best night markets in Thailand (Bangkok, Phuket, Koh Samui, and Krabi).
Roi Fat Market – The Most Famous Bangkok Night Market
Actually, you can find two Roi Fat Markets in Bangkok. However, the larger one locates behind Seacon Square Shopping Mall. The market has three separate sections depending on which they are selling: Market Zone, Warehouse Zone, and Rod's Antiques. The Market Zone is exactly what you can expect from a Thailand traditional night market but on a huge scale. Venture along over 2000 stalls where you can find everything from street foods, clothes to households. Goods made in Thailand really have good quality but at a reasonable price that can make you a bit shock. Besides, the two other zones are the paradise of interesting second-hand items that many of them are uniquely one of a kind. Ready to soak in the old-fashioned vibe through stalls of old cameras, bicycles, and so on.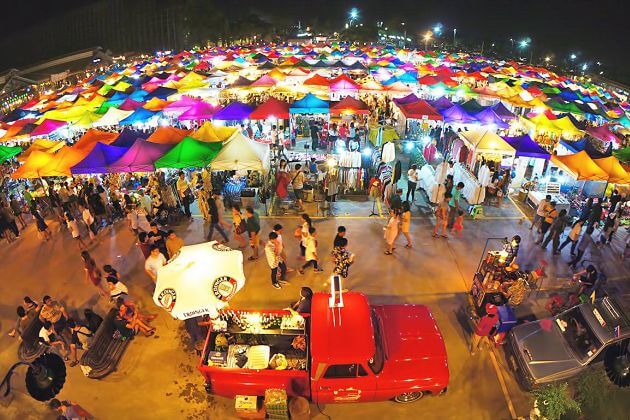 Phuket Weekend Market – Best Night Market in Phuket
Known as Naka Market or Talad Tai Rot, the Phuket Weekend Market is the biggest on the island where a massive collection of goods is available. Visitors will have a wide variety of choices from second-hand goods, curios, pirated items to great local foods. This is where literally sales nearly everything that you certainly can purchase your ideal souvenir. Its signature remark is covered by a crumpled metal roof. The market is dry in the rainy season but can get a little stuffy when it is crowded (the busiest hour starts any time after 19:00).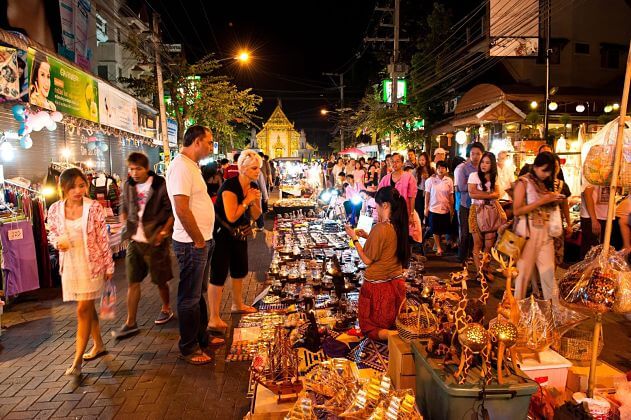 Fisherman's Village Walking Street – The Unique Koh Samui Market
The Fisherman's Village Walking Street is regarded as the most popular weekly market on Koh Samui and attracts a huge number of tourists in and out. Located Bophut is a bustling market full of food vendors, dancers, artists and various goods on sale at affordable prices. Visitors might be surprised to find unique craftworks along with knock-off designer items with many other interesting options offered.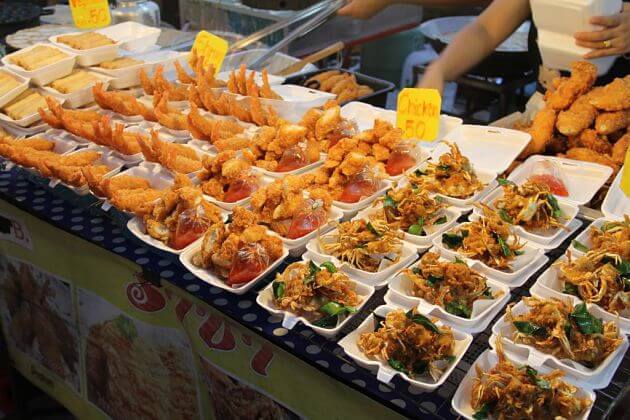 Phuket Walking Street – The Most Popular Night Market in Phuket
Phuket Walking Street lies in many people's lists of favorite locations for its appealing setting with charming features. Located right in the heart of Phuket Old Town, Phuket Walking Street is known as one of the smallest and quietest walking street night markets in Thailand. Thalang Road is lined up by various buildings acting as a lively backdrop to the live performers and vendors enjoying traditional music, contemporary dance, and even stunt acts. It's where visitors can always buy unique souvenirs and delicious street food at very low prices.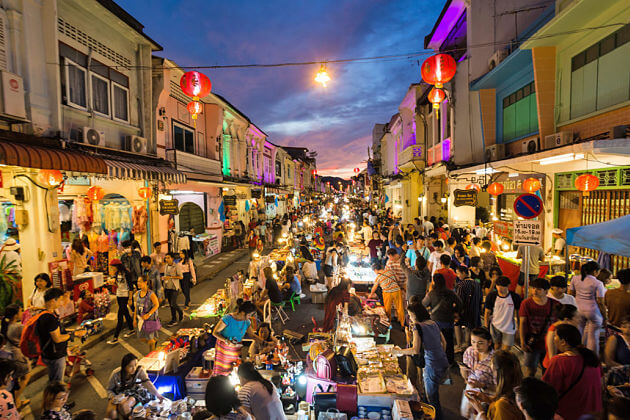 Krabi Town Walking Street – The Bustling Night Market in Krabi
Krabi Town Walking Street (Thanon Khon Dern in Thai) locates along Soi Maharaj 8 and across the 2,000 sqm plaza behind Vogue Department Store in downtown Krabi. It involves about 50 stalls selling multiple products and street food. Its popularity is insane as it can attract such a surprising number of people within a small area. This weekly event is an ideal shopping place where visitors are surrounded by a wide variety of wares such as T-shirts, elephant pants, handmade leather handbags, gardening tools, and even pearl jewelry. Krabi Town Walking Street best reflects the life of southern Thailand with typical products presented by local artisans and artists.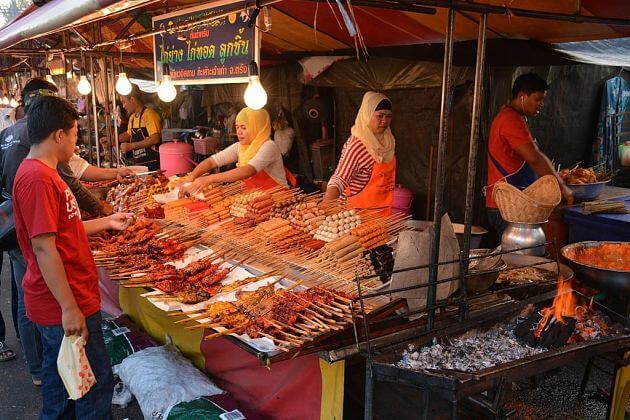 JJ Green Night Market – Where to Experience the Authentic Bangkok
JJ Green Night Market, located down the road from the well-known Chatuchak Weekend Market, is both a vintage flea market and a local drinking hangout. Unlike the Chatuchak Weekend Market, its atmosphere has a more relaxed and bohemian vibe. Although most of the bars and shops are available throughout the week, the best time to visit this exclusive night market is recommended to be in the evening from Thursday to Sunday. Visitors can fully experience and discover unique items at cheap prices such as second-hand clothes, old car models, artwork, and antiques just to name a few. It is located just down the road from the famous Chatuchak Weekend Market but has a much more relaxed, bohemian vibe.