Located in the East of China next to the Shenzhen River, Hong Kong does not only highlight the economic, but also the crossroads of East-West cultural background, which all created a brightening Hong Kong – one of the most well-known tourist city in Asia. Myriad of tourists are curious about this dense metropolis and somewhere to shop in Hong Kong. Asia Shore Excursions understands your concern and helps you to operate a unique Hong Kong Shore Excursions, brings you to travel to every country's amazing corner as well. Take a glance at the list of the best shopping places in Hong Kong we mention allow to pinpoint where to go.
Temple Street Night Market – Best Local Market in Hong Kong
Temple Street Night Market is the liveliest place in Hong Kong for shopping. This shopping place in Hong Kong starts every night from around 18:00 but really gets going when the sun sets. It is located in Kowloon, tourists can find Temple Street Market just one block west from Jordan MTR Station and is the famous place to do some purchases and earn some good deals as there are too many cheap clothes, fake label clothing, savory open-air street stall food, sports and footwear, and even household items. Although the Temple Street Night market is one of the best places in Hong Kong for shopping, it is a tourist destination, thus prices are not as good as visitors will find in other night markets. However, the prices can be lowered if you can persuade sellers or in other words, that means you can do bargain.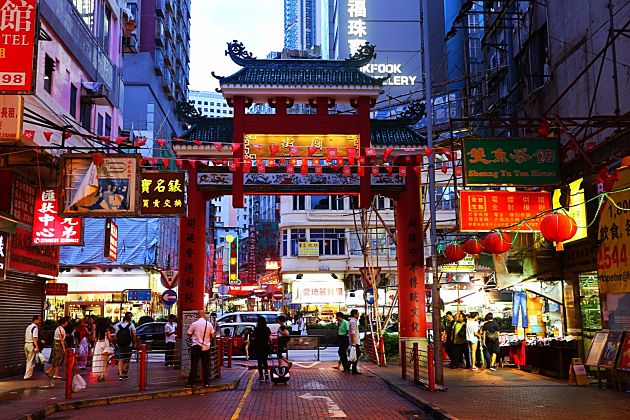 In this Hong Kong shopping place, there stand many different kinds of the same kitsch and mass-produced souvenirs such as resin-molds of dragons or Chinese Qipao, which do make great and cheap presents to take back home. Another interesting thing that is the appearance of some fortune-tellers and herbalists somewhere in Temple Night market. Stroll along the streets, it is easy to find an incredible range of restaurants to choose from, with Japanese, Indian and Italian pizza, or some snack stalls for eating. This shopping place is so crowded, but the best time is around 19:00 to 22:00 when a colorful and noisy spectacle Hong Kong market appears.
Elements Hong Kong Shopping Mall – Best Shopping Mall in Hong Kong
A concern in five fields themed around the Chinese elements as metal, wood, water, fire and earth, Elements is located in Western Kowloon owns a fantastic range of sought just after brands, a great option for dining. Dining at Elements is an unforgettable experience with most stores offering stunning harbor views through floor to ceiling windows.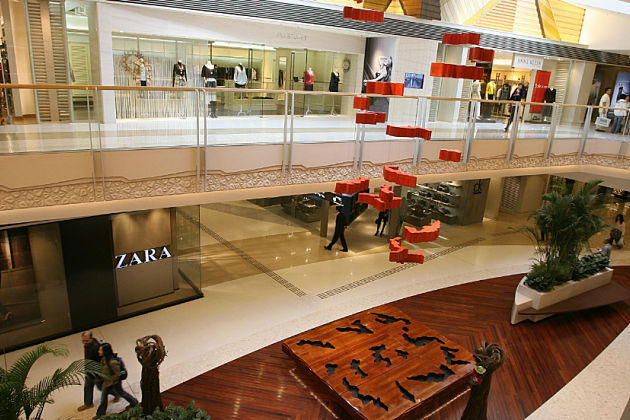 Explore the five zones is highly recommended stunning visual displays according to the elements consisting of decadent fountains, delicate wood sculptures, cool metal designs, and grand rock sculptures. Elements always bring together a host of glamorous brands from more than 123 stores selling accessories from the likes of Mulberry, Jimmy Choo shoes, REISS fashion and iconic ROLEX watches.
Stanley Market & Murray House – Most Popular Market in Hong Kong
Stanley Market and Murray House are on top tourist trail with the former selling arts and crafts consisting of paintings, furniture and a lot of souvenirs. The market has made up of winding lanes stocking a mind-boggling assortment of gifts, clothes, watches, which all make Stanley market a perfect place to explore before leaving Hong Kong. These smattering restaurants woven into the market delivering authentic Hong Kong delicacies and a range of waterfront bars and restaurants are included. Historic Murray House, also located on the waterfront, shows many historical clues throughout a restored colonial building dating back more than 160 years. Nowadays, it is home of the Hong Kong Maritime Museum and a few eateries having been moved to this in 1982 since it was dismantled from its original residence in Central and rebuilt in Stanley. Both Stanley Market and Murray House lie in the town of Stanley on the South Eastern peninsula next to Chung Hom Kong and Repulse Bay.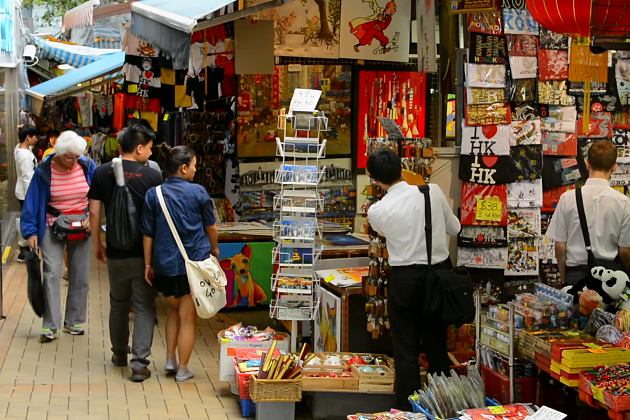 Murray House is an interesting historical site featuring restaurants and a Maritime Museum included. Murray House is in the facade of Murray House, and nowadays its form part of the Stanley Plaza shopping center with Maritime Museum located on the ground floor, and these first and second floor delivering many superb views.
Visiting Stanley Market in the cooler morning, it packed to the rafters with inexpensive treasures. In the Stanley Market, any kinds of Chinese silk and linen are available in clothes bags, table clothes. Tourists can buy a lot of cut-price watches, torches, and another electronic wizardry at the low prices. Besides the market, it also has other local markets around where tourists visit to dine out with many options after a long shopping day.
Ladies' Market – Best Shopping Place in Hong Kong
Ladies' Market is a crowded shopping street with a series of stalls of clothes, shoes, jewelry and plenty of souvenirs, especially trinkets and tat. A small notice for tourists when purchasing anything in the Ladies' market that is they need prepare to bargain since the aunties running the stalls start to inflate prices, thus your ability to persuade seller is so important. When haggling at Ladies' Market, you should aim to knock up to 50% off the final price. As always, be polite and understand that a smile and a joke goes a long way. Despite the fact that, Ladies' Market is great fun and an unforgettable Hong Kong shopping experience. Location of Ladies' Market is in the Mongkok area of Kowloon, just off Nathan Road. The market usually opens at midday but it really gets going in the mid-afternoon and stays open till 23:00 every day.