Don't miss a visit to a local market in any Ho Chi Minh City shore excursions from Phu My port. Erected by the French in 1880s, Binh Tay Market is situated in Chinatown (or Cholon), between Thap Muoi and Phan Van Khoe Streets, in the south-west of downtown Ho Chi Minh. As being the largest traditional market in the city, it is the dominant business hub and a major attraction in Cholon.
Designed by a French architect, the market is characterized by a harmonious combination between Chinese and French style with its lotus-flower shaped roofs, belfry, and clocks. Inside, instead of shops for single purchases, many stalls cater to those looking to buy in bulk.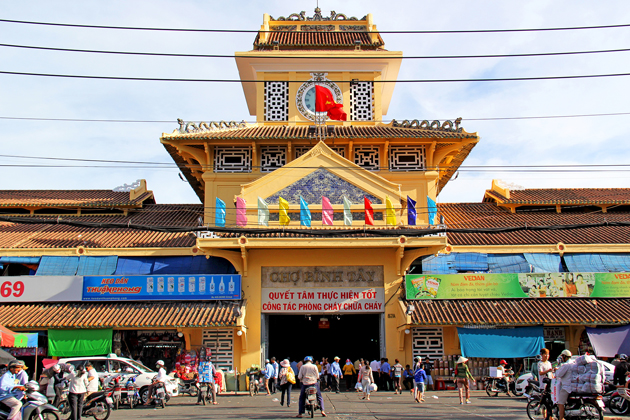 They provide all kinds of goods such as handicrafts, lacquerware, textiles, household items and beauty products. In addition, unlike Ben Thanh Market, this market mainly serves the locals with its impressive variety of fresh fruits, vegetables, poultry, meat and seafood from regions across Vietnam. In fact, many Vietnamese who operate stalls at markets in other sections of the city come here to purchase their supplies. If you desire to immerse in the local lifestyle and sample unique Vietnamese-Chinese delicacies, it is highly recommended to visit the market in the morning when it is most chaotic.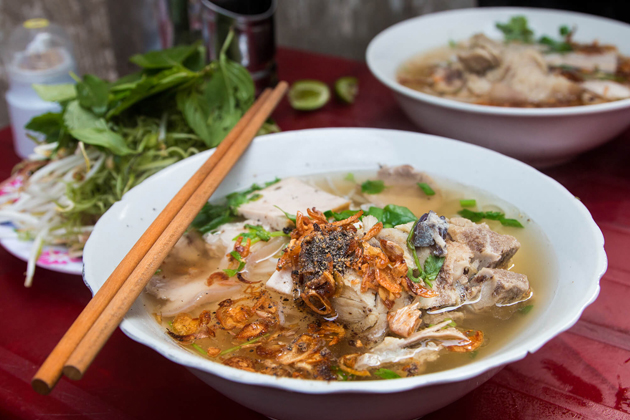 If you want to escape from the bustling atmosphere after shopping, in the center of the market stands a courtyard that is a perfect spot to take a break and relax in the peaceful garden. The center of the courtyard is home to a large stone plaque and altar in commemoration of Thong Hiep, a Chinese businessman credited with starting the market. If you're looking for more than just a quick sit, and you want to recharge your batteries to continue exploring the market, several food stalls would be the optimal choice. Besides having some of the usual Vietnamese street food dishes, you can also try some more Chinese-inspired street fair as well as some of the city's best banh bao, a Vietnamese favorite inspired by the Chinese.