As an outstanding destination in Boracay Island, White Beach now is the longest beach with about 4 kilometer length and amazing natural scenery. That explains why this place has become the most favorite spot for tranquil moment and leisure in Philippines. Let's come and explore the beach right now!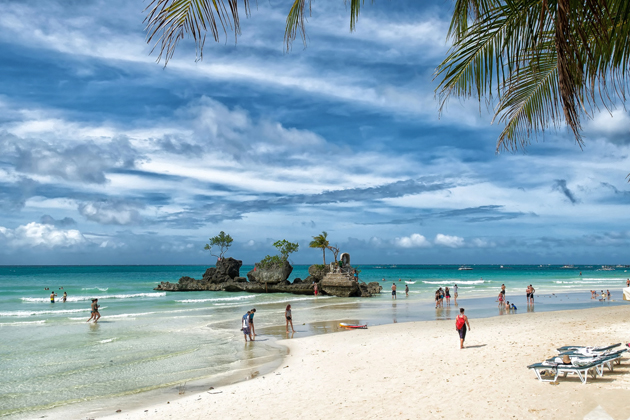 Lying on the Western Coast of Boracay, the 4 kilometer beach is full of white sand soft as powder. The beach is divided into three main parts: Station 1, Station 2 and Station 3 with many activities. In Station 1, the beach is wider; therefore, it is suitable for soccer or volleyball and there are also many luxurious resort and clubs just within this area. Meanwhile, Station 2 is more standard hotel and gathers many shops and stores. It can be considered as a shopping spot for shopaholics and food lovers. If you are travelling on budget and looking for something natural and peaceful, Station 3, down to the south, with cheap hotel for backpackers and green nature will be where you want to go. It is also the quietest and greenest station in White Beach. Whichever you go, there are always handful of bar and clubs for night time.
White Beach has what it needs to offer excellent conditions for swimming and snorkeling in shallow water. The white powder sand and turquoise water would leverage your satisfaction in swimming, snorkeling, and moreover, scuba diving, windsurfing, kite surfing, jet skiing, parasailing, cliff diving, fishing boat riding, etc. If you are tired, just stay on the beach and receive massage and spa treatment or go dining and partying in the evening. Days in Boracay are all about leisure.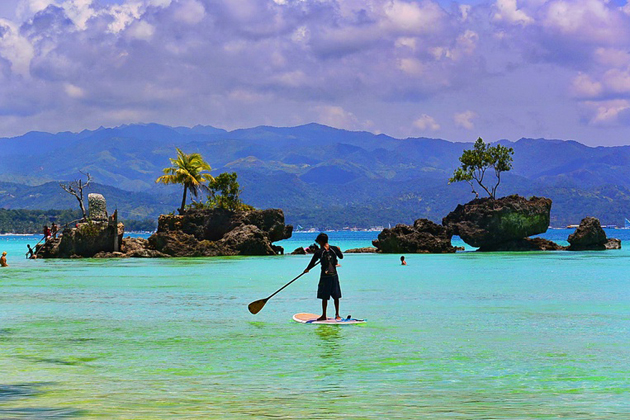 Since White Beach is the most attractive destination in Boracay Island, it is quite crowded in some specific time. Morning is the perfect time for who want to get into the tranquility of the beach with sunrise, the beginning of a new day or with a morning swim in the beach. In the afternoon, people start to come out and the beach quickly becomes crowded with locals and foreigners playing volleyball, soccer or other kinds of sport. When the sun comes down, visitors will be attracted by amazing view and it's time for photographers to work. And the last moment of the day, nightlife is when the beach truly get crowded with the operation of many bars and restaurants up to midnight.
The best time to visit White Beach is from December to May which is also the dry season here. because during wet season, there are a lot storm and typhoon in the sea, for your own safety, it's better to visit White Beach in the dry season.