Situated in the southern section of Jeju island, Cheonjiyeon Falls is well known for its scenic coastlines and picturesque waterfalls. The name Cheonjiyeon refers to a waterfall connecting the sky (Ch'eon) and land (ji).
The falls is 22 meters in height, 12 meters in width and plunges into a pool of water 20 meters in depth. The clear and deep water is designated as a natural monument of South Korea. The source of Cheonjiyeon Falls is a spring that originates from the Yeonhee-chun stream and comes out of the floor of the Somban Stream. Although there is only one main area where water falls over the cliff, depending on the annual precipitation, the stream may spread and cascade down at several points. The water falls into a large, artificial pond that has been created by two small dams to maintain the water at a certain level.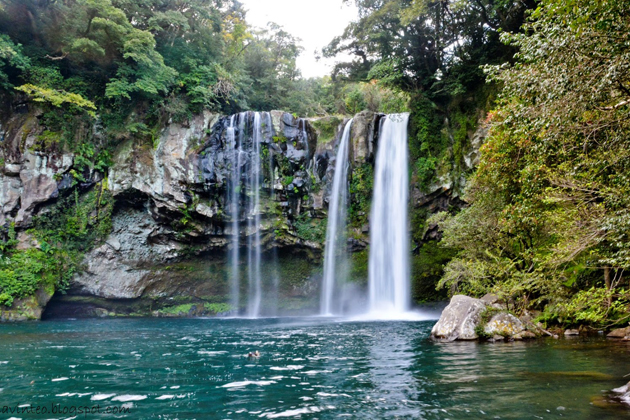 If you are keen on scenic coastlines, walk along the well paved path that meanders amid tall trees and rare foliage that provide good shade even on a hot afternoon for a cool stroll to the waterfall. It is a walk that passes a man-made bridge and small rapids along a stream created by the flowing waters of the waterfall. It is also the home of Mutae eels, a natural treasure. Especially, the perfect time to plan a visit to Cheonjiyeon Falls is in the evening when the waterfalls are lighted before sundown. Reward yourself by immersing in the serenity and sounds of the falls in harmonious connection with the night illumination which will offer you another perspective of the waterfall.