Located in the heart of Taipei City, Chiang Kai-shek Memorial Hall was erected in honor and memory of Generalissimo Chiang Kai-shek, the former President of the Republic of China. It is the most prominent historical landmark in Taiwan.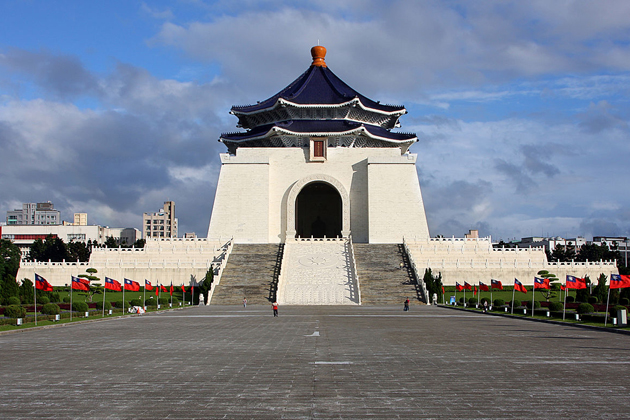 Entrance to the main hall is made via a series of 89 steps (the age of Chiang when he died). Inside the cavernous hall is an artefact museum with Chiang's two Cadillacs, various documents and articles from daily life. The hourly changing of the honour guard is probably the most popular sight with most visitors. Below the hall is a museum documenting Chiang's life and career, as well as exhibits about Taiwan's history, pan-Chinese culture and history, and the ROC's development after moving to Taiwan.
Outside the gate of Chiang Kai-shek Memorial Hall, there are poles carrying the sign of true rightness. The architecture of Chiang Kai-shek Memorial Hall is inspired by Tiantan in Beijing. The four sides of the structure are similar to those of the pyramids in Egypt. The material is white marble. The roofs are decorated with deep-blue glass as part of the reflection of blue sky and bright sun. It adds a touch of grandeur. The garden is planted with red flowers. As a whole, the colors of blue, white and red express the National Flag and the spirit of freedom, equality and brotherhood.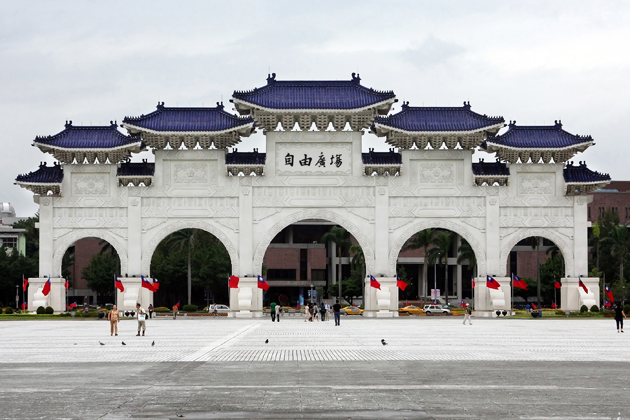 There are also places for international art performances. They are National Theater and National Concert Hall. World famous musicians (such as the great cello performer Yo Yo Ma and the great violinist Shao Lian Lin) and renowned playgroups have conducted performance here. The garden with beautiful flowers, miniature hills and plants, ponds, ornamental bridge and waterfalls as well as green grass presents scenery beauty. The walls surrounding the area are with nostalgic design. The place is enriched with the beauty of traditional Chinese gardens. There are various activities taking place in the square. There are the concert of the world renowned three tenors, school band performances, cheerleader performances and fairs. One can pay respect to the historical great leader, as well as participate in the relaxation activities of local residents.