Perhaps nowhere in the world can make tourists feel heartbreaking, sympathy and shudder in fear as Choeung Ek Killing Fields in Cambodia.
Located 14.5 km away from the capital Phnom Penh and only 30 minutes driving, Choeung Ek Killing Fields is most famous tourist attractions in Cambodia with largest number of visitors each year. This place brings visitors a real look of most horrific things happened in Cambodia under the rule of Pol Pot.
Choeung Ek Killing Fields was originally just an orchard, but then, it was used by Pol Pot as a Cambodian collective massacre. Though it was put into tourism, but anyone going into the Killing Fields feeling suffocated, shuddered when witnessing numerous mass graves of anonymous killed inhumanly.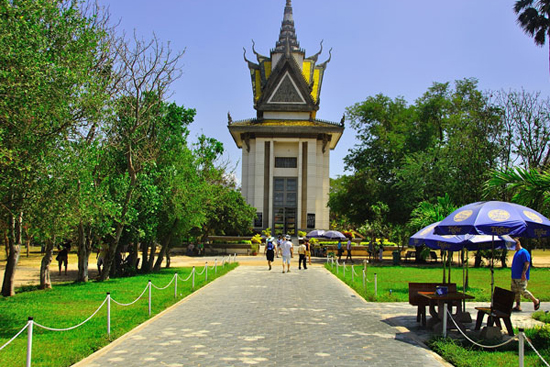 According to statistics, Choeung Ek has more than 20,000 people were killed by Khmer. From the liberation of Cambodia (1979), there were only 8985 bodies were found. Make up your mind before reading the titles such as "the grave of 100 infants and mothers", " grave of the 450 dead bodies", "grave of the 166 headless people", "grave of 87 armless and legless people"…. Besides, there are also many items which were used to torture, or music to drown out cries, screams of the victims which were also revived with the efforts to help travelers have more realistic views of the genocide.
In the center of the field, there is a memorial to victims with about 8,000 skulls, many of those which are still preserved the traces of cruel torture by knife, with an axe, stick… This is the method of murderous Pol Pot applied only to save ammo, do not want to waste too much in killing people.
The stored images of a painful past are how the Cambodians prompted the future generations on a dark period of the nation. In addition, the traces of pain are the way to develop many types of tourism such as sightseeing, history and discovery that attracts a huge number of visitors to Cambodia each year.