Inside the itinerary of many Ho Chi Minh City shore excursions starting from Phu My port, located in District 5, Cholon is the largest Chinatown in Vietnam. Dating back to 1778, Cholon is not only a place of great historical and cultural significance but an attractive destination portraying traditional and distinctive lifestyle of ethnic community.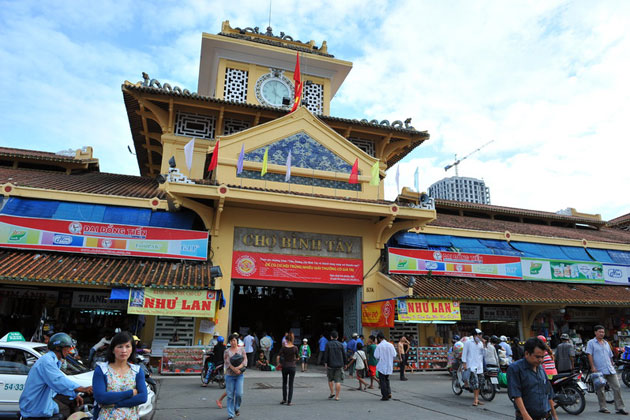 Covering a surface of 4 square km on the west bank of Saigon River, this district is home to Vietnam's largest market (Binh Tay market). The market is always busy, crowded and messy with small aisles selling all manner of goods. Another point draws visitors' attraction is the authentic Chinese atmosphere in the district that has existed here for hundreds of years. It's a wonderful place to experience at night. There are streets which concentrate on selling unicorn-head and royal costumes like Luong Nhu Hoc Street, gems like Ham Tu – An Binh Street, rice in Tran Chanh Chieu Street, etc. Especially on Hai Thuong Lan Ong Street, there are many stores selling Chinese medicines, where visitors may observe how traditional medicine is made and used. In addition, you may stroll around the deluxe shopping mall or charming Chinese pagodas such as Nghia An Hoi Quan, Tam Son Hoi Quan, Thien Hau and Khanh Van Nam Vien.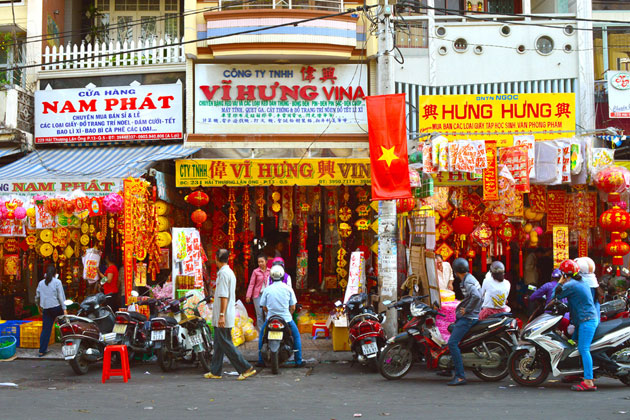 The market today is a perfect destination for those on the tourist trek and also attracts many Taiwanese and Chinese visitors. You may get a chance to see classical Chinese architecture reminiscent of years gone by with plenty of Chinese restaurants. Chinese ethnic people have lived and supported their lives by many different activities such as opening food stall serving traditional food, selling clothes or household items. Not only can tourists enjoy the local cuisine like noodle, rice and wontons, they are also appealed by the colorful decoration, housing styles and at most a vibrant life. One noticeable characteristic of this area is the structure of shophouse which were constructed at the beginning of 18th century. A typical shophouse is only 3-4m in width but 4-5 times more in length, with an inside yard. Trading activities often take place in the front part of the house while daily activities occur inside. To get a closer view of Vietnamese daily life, this attraction cannot be missed in not only Ho Chi Minh City shore excursions, but also Vietnam day trips.