As a heaven for snorkeling-lover, Crocodile Island will impress you strongly with crystal-clear water, marine biodiversity and stunning natural view. Pack your pack and go now! The summer in Crocodile Island with amazing activities is waiting for you in Bocaray, Philippines.
White Beach in the West, Puka Beach in the North, Bolgange Beach in the East, therefore, Crocodile Island should be located in the Southern end of Boracay. It is easy to reach the island by taking a speedboat or tradition boat. If you are staying in White Beach, the trip will be less than 20 minutes.
The name Crocodile Island comes from the size and shape of the island with no habitant, seeing from a fare distance, it looks like a crocodile coming from the water. Moreover, Crocodile also represents for the wildness in the island with rich aquatic life and amazing gifted beauty. The island is now considered as one of the best diving site for all drivers in all level and also the best diving site in Boracay.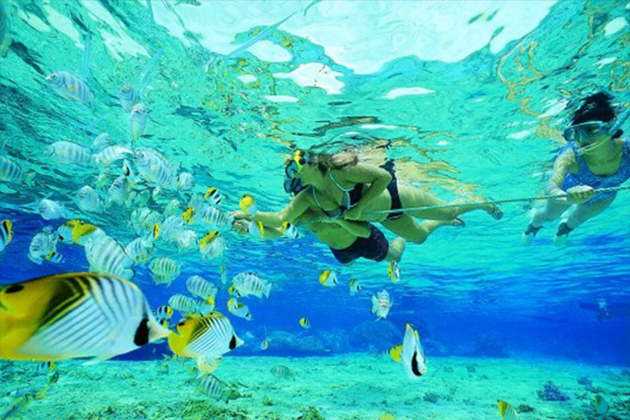 While diving or snorkeling under the sea, visitors will encounter the rich, colorful marine life and biodiversity under the water. There are schools of fish, nudibranch, lion fish, scorpion fish, moray ells, cuttle fish, sea snakes, gorgonian fan corals and much much more. Many schools of fish in different color are moving in the water; together create an impressive color artistic performance of lifetime.
Although diving and snorkeling are fun, you should take notice of the weather in order to make sure the island is in a good and safe condition to carry out such activities. If the weather does not allow us to dive or snorkel, the white sand, blue-clear water and wonderful sceneries are still perfect. Especially in sunset, it feels like the entire island is take a rest and ready to show off its beauty next morning.