When you walk around Manila, surely you will notice there are many mosques in this capital city. One of the most outstanding mosques is Golden Mosque, which might be required as a must when you arrive here. The atmosphere of religion and specialty is what visitor feel immediately here.
In Asia, Philippines is known as the only country with the main religion, Christianity, but only few people know that Islamic was once a major religion presenting in this country. After Spain took over the country, they reinforced Christianity for the whole country. The effect of Islamic is quite strong until now with many religious buildings such as: Grand Mosque, Pink Mosque, Taluksangay Mosque, etc and Golden Mosque.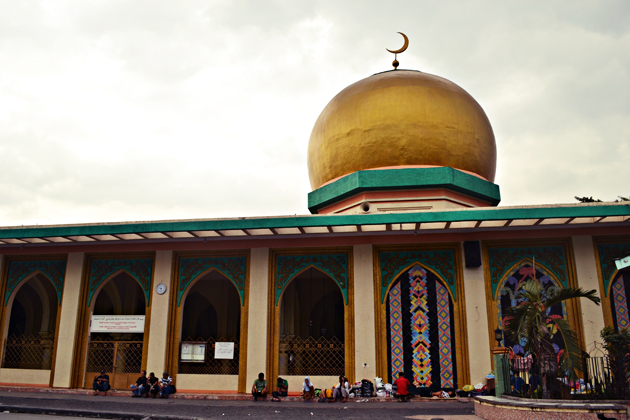 Golden Mosque now is the biggest mosque in Metro Manila situated in predominantly section of Quiapo District. It was built in 1976 following the order of former president's First Lady, Imelda Marcos with an aim to welcome the visit of Libya's President, Muammar al-Gaddafi, but unfortunately, this visit had been canceled. In spite of the fact, Golden Mosque is still an important building serving Muslim community with a capacity up to 3000 persons.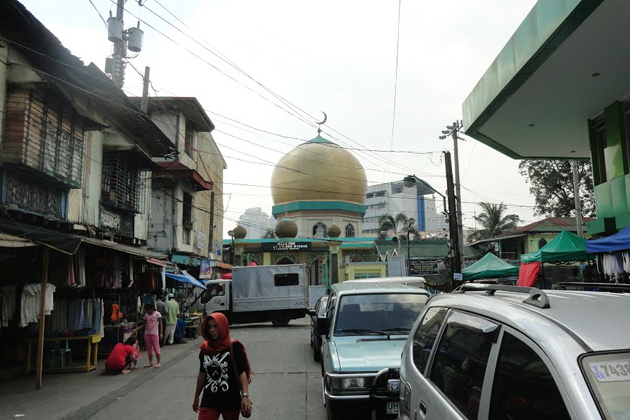 The mosque's name comes from its own color, golden and the mosque is the intersection of culture, tradition and religion. Filipino Islamic culture with the appearance of Okir pattern from Muslim Mindanao is reflected in design and decoration of the mosque.
Moreover, people come here not just because of the mosque, nearby, there is also an Islamic library and Islamic school. Sometimes, visitors will hear the voice from megaphones reminding people it's time to do the salat or to pray.
As an outstanding feature in Manila, especially Quiapo District, this mosque has been chosen as the symbol of Quiapo, reflecting the Muslim spirit in Manila. Therefore, during the trip to Manila, make sure that you will take a look at this beautiful golden mosque.