This is a chance to admire this magnificent sea-side statue of Guanyin Buddha!
Standing grandly on an enormous platform in the Sanya Nanshan Buddhism Cultural Tourism Zone, the giant landmark is an imposing statue of the mercy goddess Guanyin. It is said that this statue is the World's fourth tallest statue and it's even taller than the Statue of Liberty in the Big Apple. With the height of 108 meters, it seems that the Statue dwarfs all those in its sight.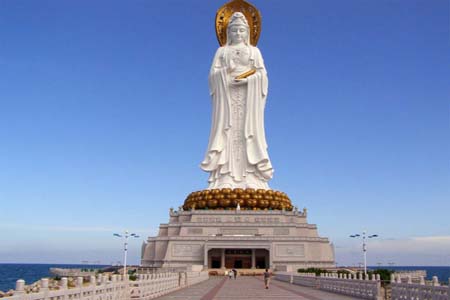 Three different faces of Guanyin Buddha is depicted, resembling a mother who brings peace, wisdom and compassion for the city. Leading to the statue is the lovely promenade which is adorned with flowerbeds, tropical trees and flying flags. Upon reaching the foot of the Guanyin Buddha, tourists would see many Buddhist monks praying.
If you want to get away from the hustle and bustle of city, Sanya Nanshan Buddhism Cultural Tourism Zone is perfect place to unwind, indulge yourself in Buddhism culture and beautiful natural sceneries.