Having the name of "Tianya Haijiao", which means the Remotest Corner of the Earth or the End of the Earth, the cape is situated about 20 km west of Sanya. Undoubtedly, this picturesque Tianya Haijiao is the most famous scenic destination and the highlight of any trip to "Hawaii of China".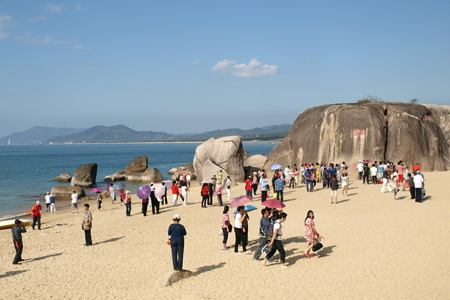 Featuring smooth white sands, emerald seas, azure skies and rolling, green hills, Tianya Haijiao is considered as a perfect harmonization of nature's palette. There are many rocks scattering along the silvery beach, but the most interesting spot is a giant ancient one engraved with Chinese characters meaning the end of sky and another meaning the rim of the sea. Besides, Tianya Haijiao get the fame from the legend of love. According to it, two lovers from two hostile clans once escape here with the word of being together forever no matter what they would face. Unluckily, they were forced to leap into the sea from Tianya Haijiao by both clan. It is believed that two huge rocks overlooking the sea are their embodiment, their loyal love. Today, many couples visit this spot to declare their love and promise that they would go to the "end of the earth" for one another.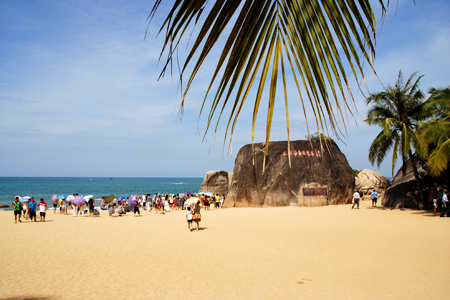 Apart from its natural beauty, the rich history of its outstanding title has brought profound poetic allusion for numerous Chinese. From the Song to Qing Dynasty, this place is considered as the penal colony of the criminals, especially official's out-of-favor with emperor. Due to its wilderness, maybe they really felt "end of the earth" here.