Gwanghwamun Plaza erected in Jongno District, Seoul in 2008 was officially opened as a public space in 2009. It was built by reducing 16 lanes of traffic down to 10 in the middle of Sejong-ro, which connects Jongno-gu Gwanghwamun to Sejong-ro intersection and Cheongye Square.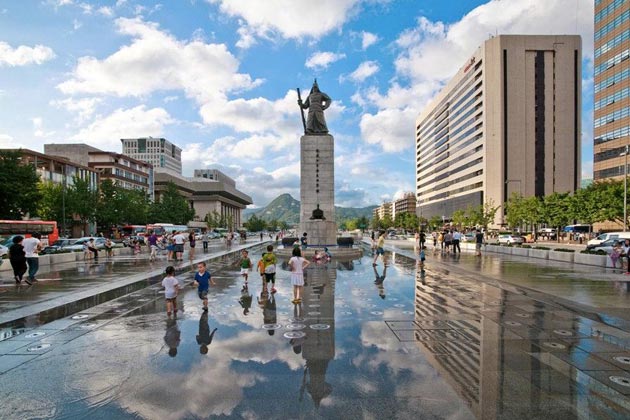 The plaza is characterized by a 162 m long and 17.5 m wide flower carpet containing 2.24 million flowers. To be more specific, there are 224,537 flowers representing the number of days from October 28, 1394 when the Chosun Dynasty changed the capital city to Seoul, to the opening day of the plaza (August 1st, 2009). Additionally, the purpose of Gwanghwamun Plaza's construction is to serve the City's plans for environmentally friendly renovation projects by transforming 10 lanes of the roadway into a public space where Seoulites could relax and socialize.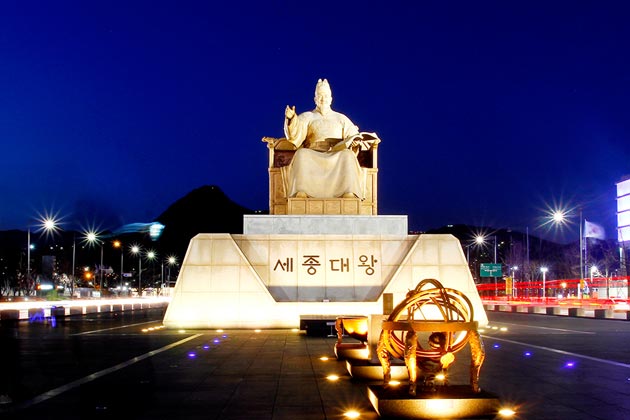 It has become a representative landmark in Seoul for featuring the 20-ton new bronze statue of King Sejong the Great; the fourth and most respected king of the Joseon Dynasty. The statue of King Sejong is the square's focal point. In front of the statue, the main inventions from King Sejong's reign are on display, including the hangeul alphabet and scientific instruments such as a sundial, rain gauge and celestial globe. Furthermore, there is "The Story of King Sejong" in underground exhibition hall of square including a wide range of materials and artifacts describing the life and achievements of the great man himself.
Currently, Gwanghwamun Plaza becomes a historical significant point to the world. It can be accommodated to the visitors up to 70,000 people, and especially the children may familiarize themselves with the waterway and its fountain in summer time.