Situated near Hyeopjae and Geumneung beaches, Hallim Park is one of the most popular tourist spots on Jeju Island. The park offers myriad botanical and bonsai gardens, a zoo, a cultural center, a mini folk village, lava-tube caves, etc.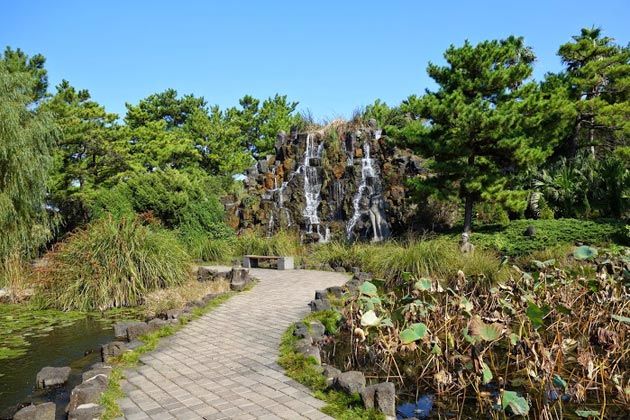 To be more specific, Hallim Park covers a surface of approximately 80 acres full of gardens with assorted subtropical plants. The plants are divided into 16 sectors including the Tropical Botanical Garden, Washingtonia Palm Garden, Foliage Plant Garden, Palm Tree Garden, and Kiwi Fruit Garden. Upon entering, rows of planted tulips lead visitors to the Subtropical Garden, which is home to two thousand exotic plants from all over the world. Then stroll through to several subtropical greenhouses surrounded with exotic fruit trees and aromatic flower blossoms. Try fresh cactus juice near the Subtropical Garden exit and then wander down the enchanting Palm Tree Avenue. Eventually, get to the Wild Grass and Flower Garden which provides tranquil trails along a spacious forest path. Each month also boasts a different flower festival, with tulips in March, cherry blossoms and canola in April and wildflowers in May.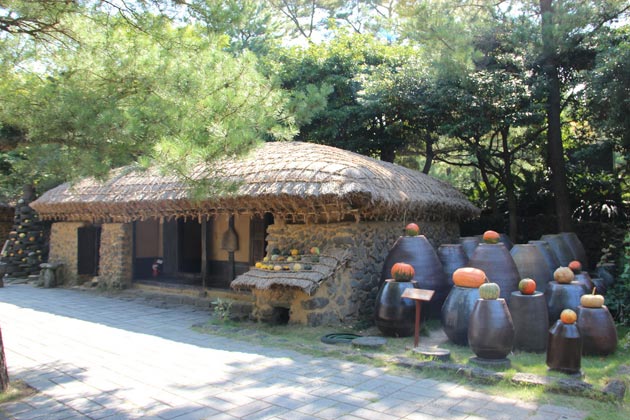 The most well known destinations in Hallim Park are Hyeopjaegul and Ssangyonggul Caves due to its unique two-dimensional shape. The caves are part of a 17km-long lava-tube system and are said to be the only lava caves in the world to contain stalagmites and stalactites. The ideal time to visit these caves is in summer time. In the heat of the summer, you can cool off here because the 500-meter portion of the caves remains at 17-18 °C all year round. Be careful of unusual stalactites, stalagmites, and fossilized seashells and pay attention to your head if you're tall. In addition, a folk village, children's amusement park, and outdoor resort facilities make Hallim Park a place fascinating for both children and adults.