Hong Kong has a humid subtropical climate which is characterized by long and hot summer and mild winter. The climate can be divided into 4 distinct seasons: Hot and rainy summer, cool and dry winter, warm and humid spring, and pleasant and sunny autumn.
The summer stretches from June to September in which the months are the hottest ones of the year. The average daytime temperatures reach 30°C, and they are not much cooler at night as well. During the period between June and August, the weather is hot and humid with occasional showers and thunderstorms, particularly during the mornings. This time is also the wettest period of the year – each month would receive about 17 inches of rainfall, especially June which is the wettest month of all may rain up to 20 days. Especially, it is recommended not to make a Hong Kong shore excursion in September which is the peak month for the violent weather occurrences.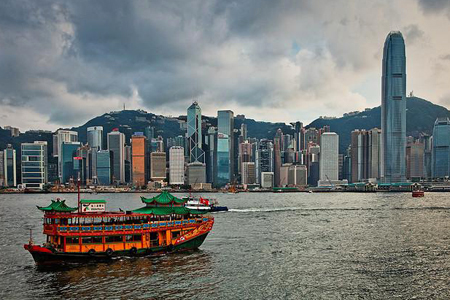 The winter lasts from December to February with the temperatures ranging from 15°C to 19°C but sometimes they may drop below 10°C. The coldest month is January with the means average temperature reaches 14-18 °C. January and December are also the driest months of the year. Due to much less rain and lower humidity, this period of time is also the occasion for sightseeing and shopping as long as you carry a lightweight waterproof jacket and some layered clothing for the cooler evenings.
The spring which starts in March and ends in May is extremely changeable and unpredictable. Some days bring clear blue skies; some bring scattered showers that usually lead to rainstorm warnings. Humidity is generally mild but as the summer is close, the extremely hot weather may approach. March and April would be very pleasant but there are still occasional spells of high humidity. Fog and drizzle causes certain difficulties on high ground which is exposed to the southeast, and air traffic and ferry services are occasionally disrupted because of reduced visibility.
The best time to visit Hong Kong
The perfect time for a visit to Hong Kong is the autumn (October and November). This period of time brings low humidity, bright skies and warm temperatures. It's an occasion for strolling along the wide and charming Victoria Harbour or going on a shore excursion to Lamma Island or Lantau Island. You may take part in outdoors activities in the city without the stifling heat of summer as well. In addition, the weather in the autumn is almost settled; hence, you do not have to worry about sudden changes during your travels.