When is the best time to take a shore excursion to Indonesia? This information will help you learn about the weather in this country.
As Indonesia is in the proximity of the equator, it has a tropical climate. The country is characterized by a wide range of volcanic and mountainous areas; several peaks even exceed 3000 meters in height. As a result, Indonesia is subject to many sharp local differences in climate; temperatures are much lower in the hills, and the amount of rainfall of each region comes under the profound influences of two main seasonal wind systems: the north monsoon blowing from China and the south monsoon blowing from the Indian Ocean and Australia.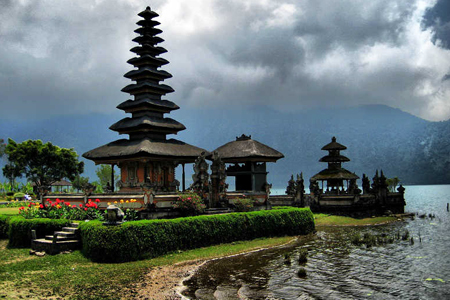 The climate of Indonesia can be divided into two seasons: wet season and dry season. In most regions, the dry season stretches from May to September and the wet season runs between October and April. On the other hand, there are some regional exceptions. During the dry season, the north-facing coasts and northern islands tend to be wetter. For example, the northern regions of Sulawesi receive abundant rainfalls over the period between June and July. Besides, in some other regions, the difference between two seasons is not distinct: Bali and Kalimantan, for instance, are relatively unaffected by the season change, but the contrast typically expressed in Nusa Tenggara region (the islands of Lombok, Flores and beyond) where there is a higher chance of floods during the wet season and droughts in the dry season. The average annual temperatures range between 23°C and 28°C across the country along with the relatively high humid varying from 70% to 90%.
Best time to visit Indonesia
The perfect time for tourists to visit Indonesia is June, July and August when the days are dry and sunny, although the prices may get higher. If you are keen on diving off the coast of Bali, Lombok or the Komodo National Park, the period from April to September is the optimal time for your shore excursions. For exploring more off the beaten track locations and rough seas, January and February are the ideal months. If you are a fan of mountaineering, take some layered clothing and climb Indonesia's volcanoes such as Mt Bromo or Mt Rinjani in dry season. It is worth noting that during local holidays, public transport can be clogged; it is also difficult to look for accommodations as all businesses are closed.