Japan which features generally temperate weather has the temperatures varying markedly based on its geographical location. In general, the climate is characterized by 4 distinct seasons: Winter, summer, spring and autumn.
The winter which lasts from December to February is quite dry and sunny along the Pacific coast; the temperatures rarely drop below 0°C.
However, the north witnesses a drop of temperatures with the Central and Northern regions experiencing snowfall. The snow on the mountains may interest those who have a passion for skiing and snowboarding.  Southern Japan is relatively temperate and comes in a mild winter.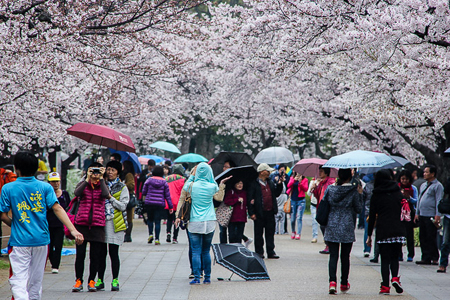 Summer begins in June and ends in September in which the country experiences a three to four-week rainy season.  There will be high temperatures and high humidity during this time. Pay attention to hazards such as mold and food poisoning that often result from the high levels of humidity (Hokkaido is mostly unaffected by the rainy season). Typhoons, or tropical cyclones, with strong winds and torrential rains often hit Japan during August and September, but can occur through May to October. Hence, be careful of the landslides in rural areas if you visit Japan in these months.
Spring which lasts from March to May is considered as the best time to go on a Japan shore excursion since the temperatures are warm but not too hot; moreover, there isn't too much rain.  The famous cherry blossoms are in bloom during this time and there are plenty of festivals to enjoy. Besides, Japan's weather is not warm all around the country. As mentioned above, it differs from one region to another so in March, you can go sunbathing in the south and skiing in the north. However, remember that try to avoid – or book well in advance – for Golden Week (April 27 to May 6).  It is the longest holiday of the year, when everybody travels and everything is booked full.
The autumn which lasts from October to November is characterized by light breezes and cooler temperatures of around 8-10ºC. During autumn, all forests are dyed in glorious autumnal colors. Chrysanthemums create beautiful displays with their abundance of flowers in combination with spectacular views of colorful autumnal leaves to enchant visitors to parks and gardens. Autumn is also the season for many exhibitions, music concerts and sports tournaments in Japan.