Malaysia's climate can be defined as a typical tropical one with high temperatures and high humidity all year round. The country comes under the influence of the south-west monsoon from May to September and the north-east monsoon from November to March; different regions of the country have their dry and wet seasons at different times of year.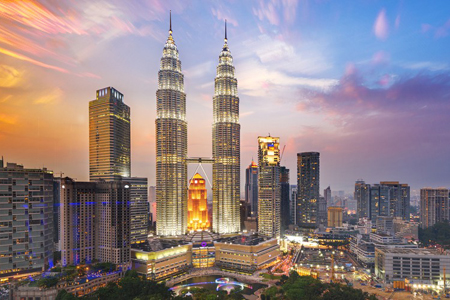 The rainfall experiences extreme variations under the profound influences of the monsoons accompanied by the relatively high humidity which ranges from 70 and 90 percent across the country. The wettest months are May to October on the west coast whilst the period from September to December is the wettest time on the east coast. Kuala Lumpur has the highest humidity from March to April and September to November, while Malaysian Borneo witnesses  the most abundant rainfall over the period between November and February. The weather is dry in June and July on the east coast and Sarawak, January and February on the west coast and April in Sabah.
In addition, the temperatures also vary greatly with regions. Throughout the year, the average temperature ranges from 20°C to 30°C on an average; the mean annual temperatures in Kuala Lumpur are typically 27°C, but sometimes, they soar into the 30s. It's even hotter up in the northern states of Peninsular Malaysia where the temperatures could reach up to 40°C.
Best time to visit Malaysia
The best time for exploring Malaysia shore excursions depends on which region you intend to visit. Most regions should be visited between April and early October when you will avoid excessive rainfalls and high humidity. It is recommended not to go on a shore excursion to the eastern coast of Peninsular Malaysia during the northeast monsoon from November to March. It will rain continuously with flash floods. Therefore, most of the accommodation on the Perhentian Islands, along with the other east coast islands will be closed due to bad weather and rough seas. In September and October, the northern part on the west coast of Peninsular Malaysia (Penang and Langkawi) can get a little less rain. However, there may be a rainstorm in Penang at any time. At the same time, the visibility for driving is also badly affected in Langkawi. Another best avoided region is Sabah and Sarawak in January when the rain is torrential.