Myanmar's climate can be defined as a typically tropical climate with three different seasons: rainy (monsoon), hot and cool. It is characterized by strong monsoon influences with a massive amount of sun and excessive rainfalls. The annual average temperature ranges between 22°C and 27°C throughout the year.
The wet season (the monsoon season) runs from May to October with the average temperature between 25°C and 30°C. During this time, strong winds which blow into Myanmar from the southwest cause thunderstorms with torrential downpours almost every day. Annual rainfall in the delta region is approximately 2,500 millimetres (Yangon 2700 mm); the coastal regions such as Western Rakhine State and the Tanintharyi coast receive over 5,000 millimetres of rain annually, but the average annual rainfall in the plains surrounding Bagan and Mandalay is less than 1,000 millimetres (Mandalay 840 mm).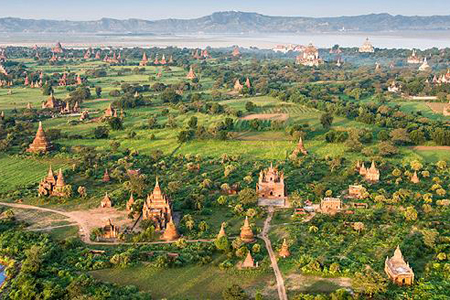 The dry season stretches from November to February with average monthly temperatures of between 20°C and 24°C. As Myanmar's climate varies with altitude, the hill stations, lakes and Himalayan foothills are far cooler than southern lowland and coastal regions. The northern mountain peaks even witness snow during the period from November to January.
The hottest and driest months are March and April which belong to the hot season. During this time, the heat reaches its highest temperatures of the year of over up to 40°C (even exceed 43°C).
Best time to visit Myanmar
All in all, the best months to go on a Myanmar shore excursion and enjoy a pleasant stay are between November and February, after the monsoon season but prior to the heat waves. However, this is also the busiest time; hence, it is recommended to book in advance to get available accommodation. Especially, remember that river travel can be slow as water levels are low. In other words, the boats have to travel more slowly and particularly do not travel overnight to avoid being grounded on sandbanks.