Singapore which is situated in the north of the equator features a tropical climate with excessive rainfall, high and stable temperatures and high humidity throughout the year. Singapore's climate is characterized by the humidity. The average humidity is 84% during the day and goes over 90% at night. The annual rainfall of this country is fairly frequent with an average of 2,346 mm, hence, there are no distinct wet or dry seasons. The wettest period lasts from November to January but the rest of the year has relative humidity as well. In terms of temperature, Singapore's temperatures vary little from month to month as well as from day to day. The daily temperature level has a minimum usually not falling below 23-25ºC during the night and maximum not exceeding 31-33ºC during the day. May and June get the highest average monthly temperature (27.7ºC and 27.8ºC respectively) and December and January are the coolest (26.0ºC).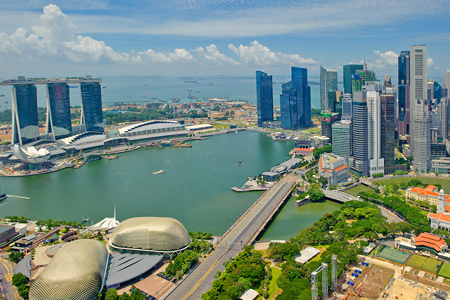 The most common period of time for Singapore shore excursions starts from December to June, particularly December, January and February. If cuisine is your major concern, explore Singapore in April to enjoy scrumptious Singaporean dishes at food festivals. The dishes here certainly make your mouth water because Singapore is considered as the culinary capital of Asia with typical dishes of China, Malaysia, India, Peranakan, etc. If you are a fan of clothes, shoes, handbags, cosmetics, even kitchen appliances, visit Singapore in July as this month is the occasion for almost all shops in Singapore to offer sales. If you plan for leisure or honeymoon, it is recommended to discover Singapore at the end of the year (from Christmas to New Year) when all the streets would have an impressive variety of flowers, lights, music and decorations. Especially, several resorts such as Sentosa and Marina Bay hold a host of interesting programs like exciting musical performances in combination with firework displays. At that time, the rains which come in this period are fewer than those of other periods of the year.
Remember to carry an umbrella to prevent downpour and comfortable clothes when taking part in outdoor activities.