Jagalchi Market, nestled in Jungu, Busan, is known as Korea's largest seafood market. This market represents Busan and is well known for its impressive variety of both fresh and dried seafood throughout the country. Annually, the Jagalchi Cultural Tourism Festival is held in October in the market, and it is easy to visit due to the convenient transportation provided by subway. Jagalchi Market is always a must-go destination for those who are fascinated by Korean cuisine, particularly seafood; meanwhile, it is an occasion to explore the lifestyle of the Busan locals.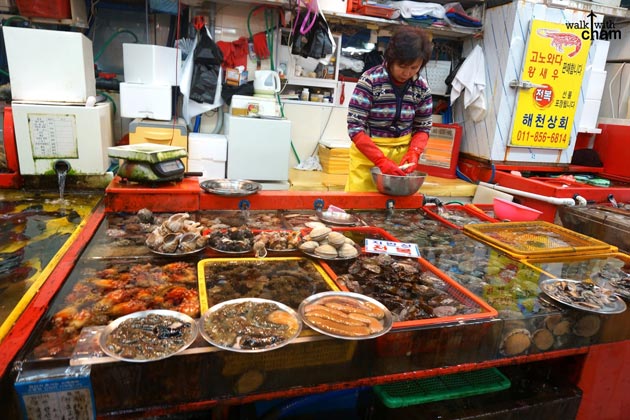 Narrow lanes outside the market are lined with decade-old stalls and rickety food carts run by ajumas (married women) who work in the Jagalchi Fish Market. Although they are kind inside, it does not always show through their strong exterior. They deal with the dirty work of cleaning and processing the seafood, while still being strongly devoted to their families. The ajumas are responsible for building up the area into its present form. They sell an enormous range of seafood, including red snapper, flounder and many other strange creatures. Inside the market, dozens of 1st-floor vendors sell only edible sea animals, including crabs and eels, two Busan favourites. After buying a fish, the fishmonger will point you to a 2nd-floor seating area where your meal will be served. This is where raw-fish aficionados indulge themselves with meals from the fish tank, via the chopping block.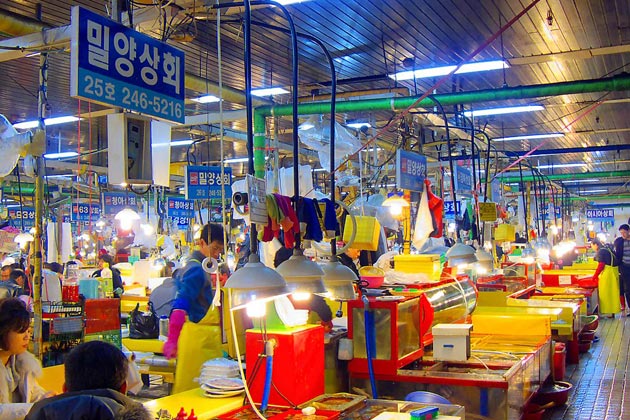 The market consists of two main sections: one for fresh seafood, another for dried seafood. The western setion is filled with live and freshly caught seafood. Fish and shellfish are caught daily and sold fresh to consumers, almost right off the boat. The area is full of tanks containing all sorts of fish, eels, squid, shellfish, and mollusks. Some areas have workers preparing the seafood for long term storage. You can watch as the fish get scaled, beheaded, chopped up, and dumped in a box of ice, all in incredible time. The eastern part is dedicated to dried seafood. This is Korea's largest wholesale market for dried fish and seafood. You may find dried squid, octopus, seaweed, anchovies, pollack, and codfish brought from all over the peninsula.