Stroll along the walkways of ancient Hoi An and get a lovely feeling of going back in time, tourists will find one of Hoi An's most iconic attractions – Japanese Covered Bridge. Built in the early 17th century, the Bride is the beautiful structure, a vivid proof of significant Japanese architecture.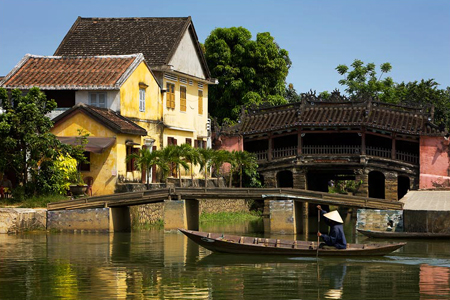 Also known as Chua Cau, or "The Pagoda Bridge", the Japanese Covered Bridge served as a walkway for Japanese reach the Chinese quarter across the water. Its construction was began in the 17th century by some of the Japanese inhabitants, however, the builder of the Bridge is still anonymous to Hoi An people. Looking from afar, tourists will find a shrine and a Buddhist pagoda attached to the side and upon reaching, the way in and out of the Japanese Covered Bridge are guarded by weathered statues: a dog and a monkey. It is believed that the years of dog and monkey are when many great Japan's emperors were born and the Bridge was also begun to build in the year of monkey and finished in the year of the dog. The Bridge has strike oriental architecture with carved meticulously wooden details, yin-yang tiles covering the curved roof, and arch pillar stone.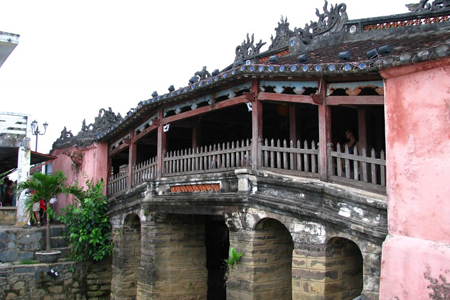 With its intrinsic pinkish hue, ornate roofing and arched frame, the Japanese Covered Bridge has become emblematic landmark of Hoi An ancient town. The bridge is among Hoi An's best photo opportunities; in the evening, it looks more attractive with small paper lanterns reflexing their light on the water.