Nestled in a small alley on 74/7 Hai Ba Trung of District 1, enough far away from the chaos of the city that always visited by cruise passengers in Ho Chi Minh City shore excursions starting from Phu My port, Hoa Tuc restaurant introduces Vietnamese cuisine in unique space inspired by Art Deco, Nouveau. Hoa Tuc was born from the owner's ambition to discover new secrets in Vietnamese cooking, so highly qualified chefs dedicated a year testing a new cooking recipe with Vietnamese ingredients to make originally stunning dishes.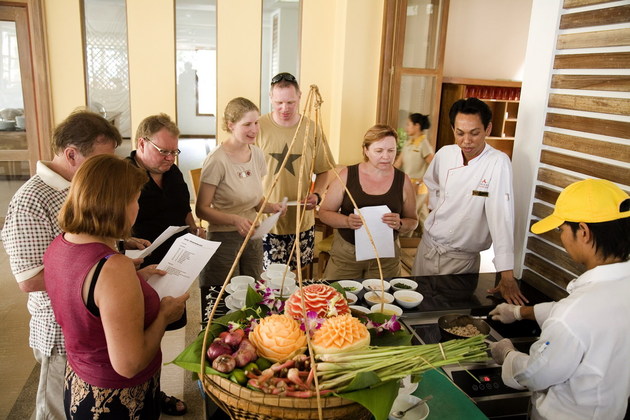 Savor the culinary delights of Vietnamese cuisine in Hoa Tuc is a fascinating experience for tourists. Nothing, however, can be more interesting as getting a hands-on experience in cooking class with a variety of recipes. In September 2009, Hoa Tuc cooking class was open to sharing the cooking passion with local and foreign foodies. For all those who highly appreciate the Vietnamese cuisine, it is possible to learn the traditional ways of preparing and cooking Vietnamese food from traditional utensils in Hoa Tuc cooking classes. It aims to present selected Vietnamese dishes and makes sure a great cooking experience for learners.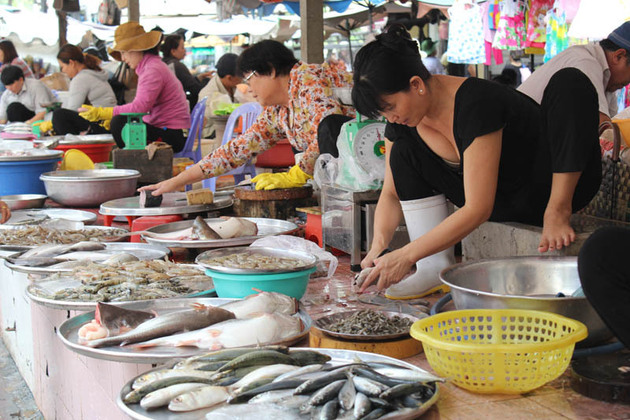 First, learners will go to the local market with enthusiastic chefs and explore the diversity of exotic ingredients. Carefully listen to an introduction of a recipe from chefs helps learners understand about some popular dishes they will make such as mustard leaves rolls with crispy vegetables and shrimps, or spicy beef salad with kumquat, baby white eggplant, and lemongrass. Next, the chefs thoroughly explain culinary secrets in professional cooking space, and then prepare the dishes in front of all learns.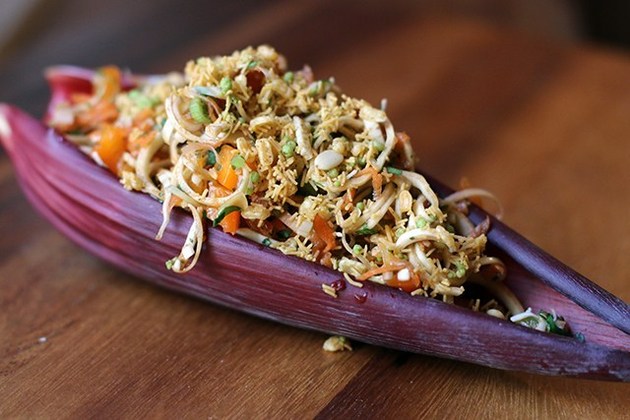 After that, it's their turn. After the class, it's a time for sitting down and a chance to savor the dishes they have cooked. Hoa Tuc cooking class introduces 3 courses of Vietnamese meal which is easy to prepare at home, culinary tips and a chance of working with zealously English-speaking chefs. Above all, Hoa Tuc cooking class is a great way to go deeply into Vietnamese cooking culture.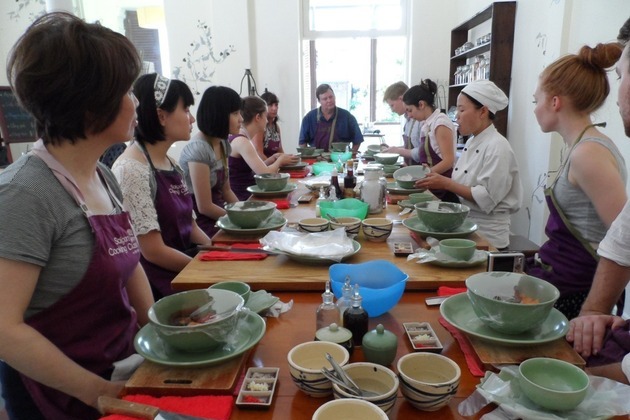 If you are a foodie or interested in Vietnam traditional cuisine, please contact us to have a cooking lesson with Saigon – Hoa Tuc Cooking Class in your Ho Chi Minh City shore excursions.