Situated in Jocheon-eup, Jeju island, Jeju Stone Park is an ecological and cultural park inspired by Jeju's myth and spirit. The park whose major theme is based on the legend of Seolmundae Halmang (Grandmother Seolmundae) who created Jeju Island and the stones of Obaek Janggun (the Five Hundreds Generals) represents the history of privotal stone culture of Jeju Island.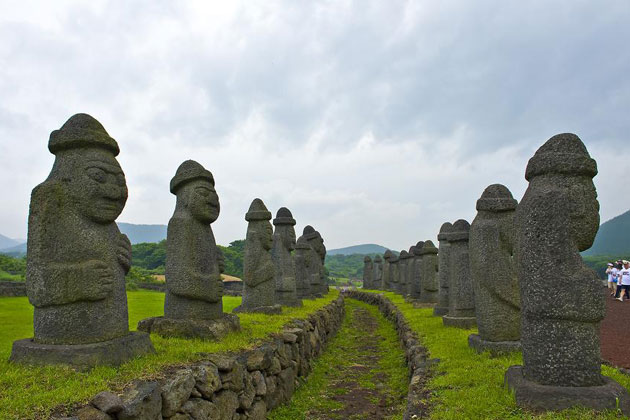 The park provides a historical and cultural space where the stones expressing Jeju's foundation and culture are collected. The outdoor exhibition offers 48 Dol Hareubang (literally "Old Grandfather" stone statues) seen throughout Jeju Island, Bangsatap (small, round towers made of many stones that were believed to ward off misfortunes), Jeongjuseok (low stone symbols showing that Jeju didn't need high fences against potential encroachments), and Dongjaseok (child-looking grave stones revealing what people on Jeju Island thought about their afterlife). Befitting the unique natural landscape on Jeju Island, the park is situated nearby small volcanic cones scattered throughout the island. Visitors can arrive at the entrance of the park by walking along what looks like fortress walls on a gentle hill.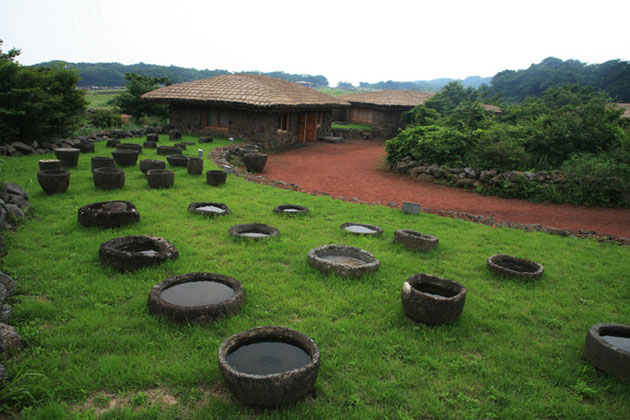 One of the most striking features of Jeju Stone Park is the Sky Pond. It displays two symbols of Grandmother Seomundae's differing legends – one is the cauldron in which she threw herself to save her starving children, and the other is Muljangori pond, where she drowned from boasting of her 49,000-meters height. Following the exhibition pathway, visitors will find stone sculptures such as Grandmother Seolmundae, Five Hundred Generals and traditional local thatched-roof houses amidst the forest. Oddly enough, Jeju Stone Museum is located underground so as not to interfere with the natural landscape.