Located in the southern section of Jeju island near the Seogwipo city, Jeongbang Falls is among three most famous waterfalls (The other two popular waterfalls, also in the same area, are Cheonjiyeon Falls and Cheonjeyeon Falls). At 23 meters high, Jeongbang Falls is the only waterfall in Asia that flows directly into the ocean.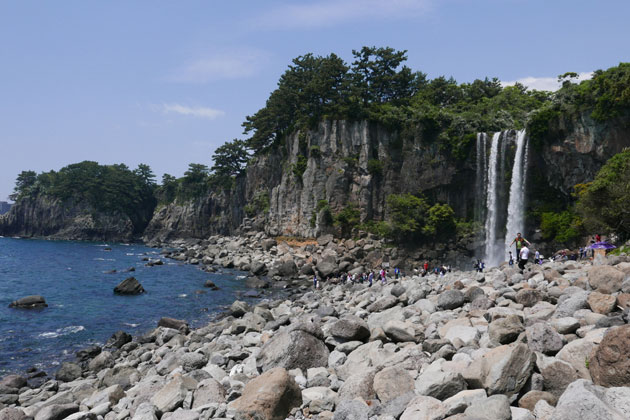 The source of the waterfall comes from the Donghong-chun stream which is divided into two paths pouring over into the sea. Although you can see it from a high vantage point, to better appreciate the force of water from the falls you will need to get close to it. Although swimming is not recommended, visitors can wade out into the water; when the tide is low it's possible to get quite close to the waterfall. On the rocks near the water is an excellent spot for a picnic lunch, or at the top of the cliffs, you may grasp a fine view of the sea through an observatory. It is necessary to wear durable, rubber-soled shoes as the rocks can be extremely slippery.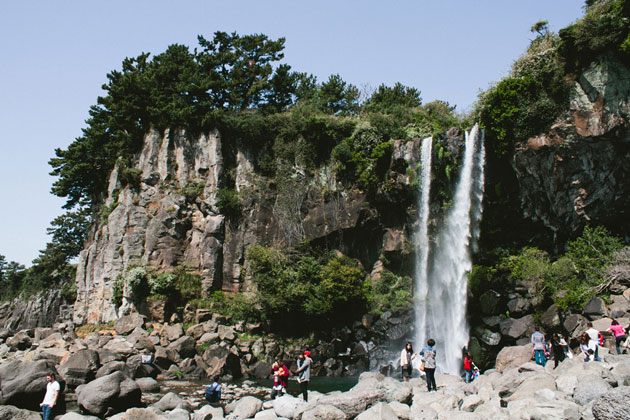 While walking to Jeongbang Falls, you can encounter a group of ajumas. They are Haenyeo who are female divers, diving for seaweeds, sea cucumber, abalone, etc. They also sell freshly caught live shellfish and sea cucumbers. If you are a fan of Korean cuisine, particularly seafood, fresh abalone sashimi wedded to garlic slices and hot pepper paste is a must-try dish making your mouth water especially downed with a bottle of soju (distilled rice liquor).