Travel by traditional longboat to the picturesque islands off Malaysia's northwest coast where you can see eagles in the wild and relax on a pristine beach. Pass "Pregnant Maiden Lake" with mystical powers. Take the Island Hopping Langkawi shore excursion, soak up the sun and enjoy a relaxing picnic.
The included orientation Langkawi shore excursion starts with a long boat cruise with multi-racial tourist from different countries, smile to each other, talk to each other heading to the same destination with different expectations. You will travel between several small islands in the Andaman Sea off Malaysia's northwest coast in a motorized boat. When you just sit back romancing the scenery, your children can play at the sandy white beach, crystal water, bathing under the sun.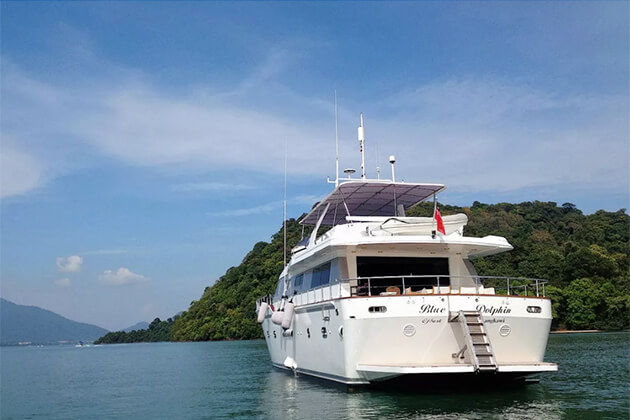 Pass several islands that make up the archipelago in the Andaman Sea, you will set a foot on the Tasik Dayang Bunting. Take a paddle boating at the famous Lake of the Pregnant Maiden located in a karstic environment and was most likely formed during as a massive limestone cave collapsed, a freshwater lake where the mouth of the lake attached to the sea water. The lake is surrounded by mountains with dense rainforests and is believed to have mystical powers that help conceive. The legend says that a man fell in love and then married to the princess Mambang Sari at the lake.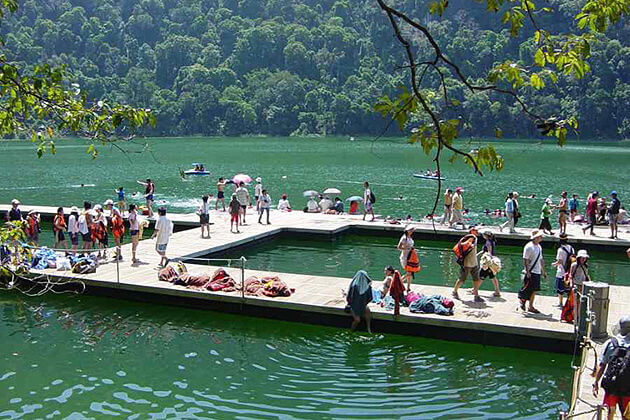 Unfortunately, their son did not live long. Having reconciled with their misfortune, their son rests in peace in the water of the lake. From then, by the blessing of the princess, all women having difficulty in conceiving a child would freshwater once they take a dip in the water of the lake. The eagle is hidden somewhere. You don't see them a while ago. But here at Pulau Singa Besar, you will meet up with dozens of 'Brahminy kite' the name of the species of the eagle on your head. They are not dangerous at all, the only way to call them is feeding them with the guide of native people.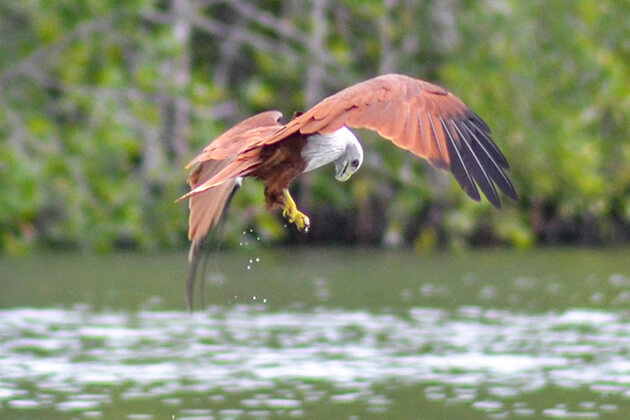 The Langkawi trip can complete without a swim at the beach of Pulau Beras Basah featuring expansive sandy beaches, swaying palm trees, and clear blue waters against a verdant mountain backdrop. Great for a family trip, the waters surrounding Pulau Beras Basah are shallow enough for children to swim or take banana boats, parasails, and jet-ski while you can enjoy a leisurely stroll along the wooden pier on the island or simply sunbathe on the beach. This island is also home to wild monkeys, so be aware of leaving your belongings out in the open as they have a tendency to grab unattended bags in search of food. Your Asia Shore Excursion will continue by a return to port for next departure.