People say that come to Langkawi shore excursions, you must try taking a kayak trip. Explore Langkawi by the waterway, you can discover a lot of interesting mysteries inside the mangroves.
Today, enjoy your Langkawi shore excursion by taking a kayaking adventure. Enjoy the mangroves of Langkawi with a taste of adventure and some exercise during this kayak trip. Have a good close up to the ecology of the mangroves while gliding with your kayak through a smaller area in the mangrove jungle away from the larger rivers. Deep into the real wildlife with luckily seeing monkeys, snakes, eagles, otters, and other special birds or monitor lizards. You can marvel at majestic-looking eagles with wingspans more than three feet long, swoop down from cliffs to feed.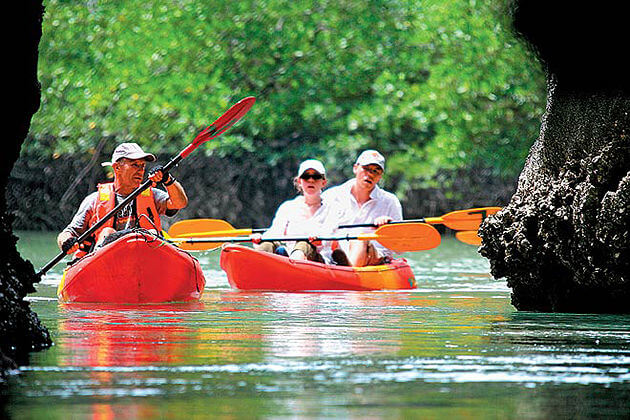 The point spot of this Langkawi trip is discovering a bat cave being home to thousands of Malaysian Fruit Bats which you have only seen in Batman: The Dark Knight. On the path entering the dark cave, you won't see anything until pointing the flashlight towards the ceiling and will be awestruck seeing so many black bats hanging from there and looking at you. Look at the dramatic limestone formations in the cave, you can imagine everything from them such as a snake with water dripping out of the mouth.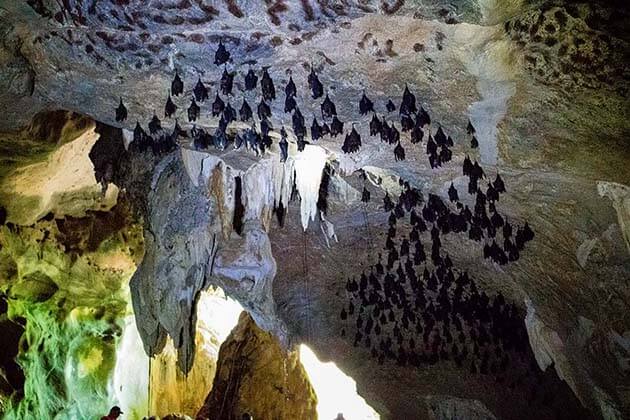 The limestone cliff full of plants and trees, especially a strange plant looks like a fern hanging off the cliff – Cycad – that existed 200 million years ago even before the days of the dinosaurs. Then, you have a savory lunch on a floating fish farm restaurant named Hole in the Wall. Tasting fresh fishes from live tanks when being served by friendly staffs, enjoy the view of a large garden made for couples as well as families with children. After lunch, you head back to port for your next shore excursions.