Built in 1738 by Han immigrants as a gathering place for Chinese settlers, Longshan Temple has stood the test of time and lasted through several natural disasters and wars. Situated in the old village part of Taipei, Wanhua District, the temple has served as a municipal, guild and self-defence centre, as well as a house of worship. It is one of largest and oldest temples in Taiwan and a prime venue for exploring both Taiwan's vibrant folk faith and its unique temple arts and architecture.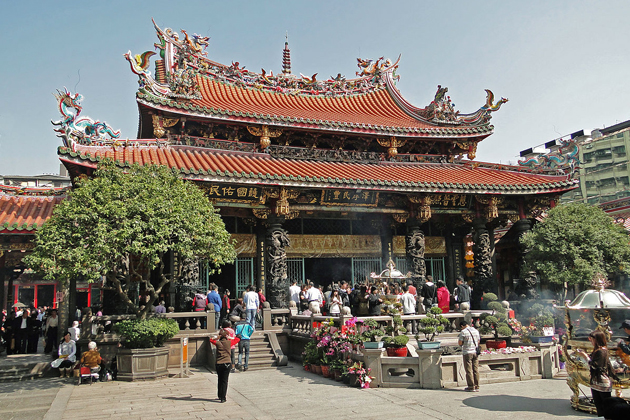 The temple's architecture is a three-section design in shape. There are the front hall, the rear hall and the right/left dragons protecting the middle hall. The layout is square and serene. The temple was built in Qianlong 5th year in Qing Dynasty. Due to natural disaster and damages caused by men, the temple was restored for several times. The doors, beams, and poles are beautifully decorated. There is a pair of bronze dragon poles in the front hall, four pairs of dragon poles in the middle hall. The sculptures are delicate. There are also exquisite wood sculptures. Among them, the well and Buddha setting in the main hall are highly appreciated. The temple has many Chinese poems, verses and lyrics on signs. These add a touch of literature in addition to the religious and sightseeing value.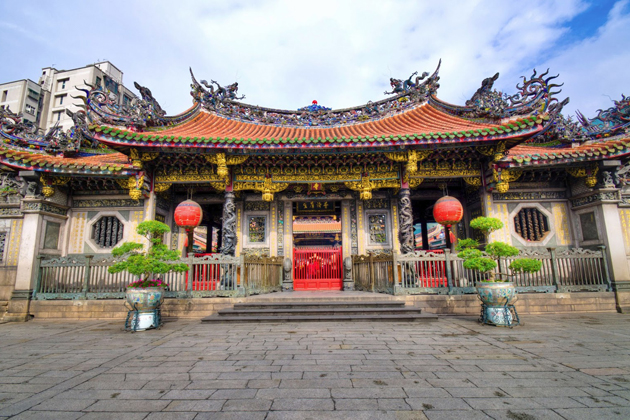 There are great decorative lamp fairs and temple activities on historical festivals. On each 1st and 15th day each month of lunar year, regular visitors will come to the temple for worship ceremony. The temple attracts many people. At normal times, there are a large number of locals and international visitors visiting the temple. Longshan Temple is not only a temple, a sightseeing attraction, but also a second-degree historical site. There are traditional streets, antique shops, Buddhists article shops, and Chinese medicine shops surrounding the temple. These places are great to visit due to their richness in folk art.