Situated in Zuoying District, Kaohsiung, Lotus Pond Scenic Zone has been one of Kaohsiung's most traditional scenic areas since the Qing dynasty and well known for the 20 or so temples dotting the shoreline and nearby alleys. Lotus Pond gets its name from the layers of lotus blossoms that cover the water.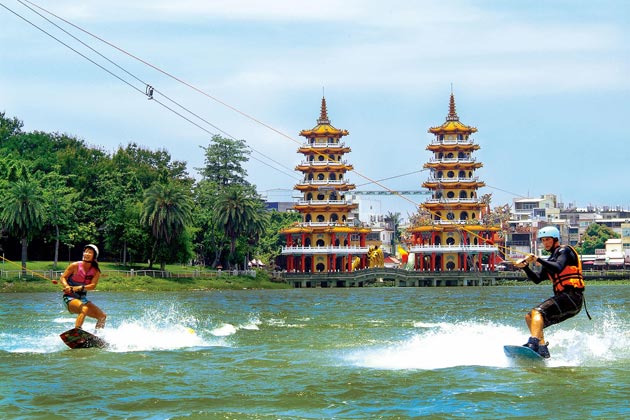 Most structures around the pond are modern and gaudy, with the exception of the City God Temple. In the entrance hall look up to admire the detailed plafond; the traditional woodcarvings are filled with symbolism, such as the fish representing Yin and Yang, and the crabs representing official promotion. The roof has some fine examples of dragons and phoenixes in mosaic-like temple decoration. The Dragon and Tiger Tower is the most famous scenic spot in Lotus Pond Scenic Zone. Constructed in 1976 as an extension of the Ciji Temple opposite, the tower is seven stories tall, and the dragon and tiger doors are its entrance and exit. Its walls are decorated with Koji pottery, which represent proselytizing stories, from a variety of artists.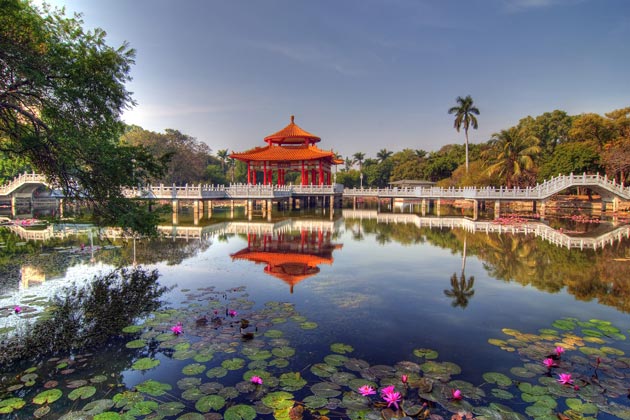 The Spring and Autumn Pavilions extend out onto the pond. These temples are dedicated to Kuan Kung, the God of War and Kuanyin the Goddess of Mercy. Between these pavilions, Wuli Pavilion is marked with a long walkway and dozens of brightly colored yellow lanterns. Standing right across the road, the Temple of Enlightenment is the largest temple in the area. It's guarded by two giant temple lions hugging equally giant stone balls. The final temple of note is the Confucius Temple on the pond's northern end. Completed in 1976, it's the largest Confucius temple in Taiwan. The temple is built in imitation of Song Dynasty architecture, in the mold of Qufu Temple in Shandong. It contains a bronze relief depicting the life of Confucius; there is a lesson on the four characters on the wall "Wan Ren Gong Qiang" in praise of Confucius' height and depth of learning and virtue.