Located on the mountainside of Shoushan, Kaohsiung, Martyrs' Shrine was architecturally inspired by the Hall of Supreme Harmony. The shrine is dedicated to the 390,000 soldiers killed in the service of their country during the War of Resistance against Japan and the civil war between the Chinese Republican and communist forces.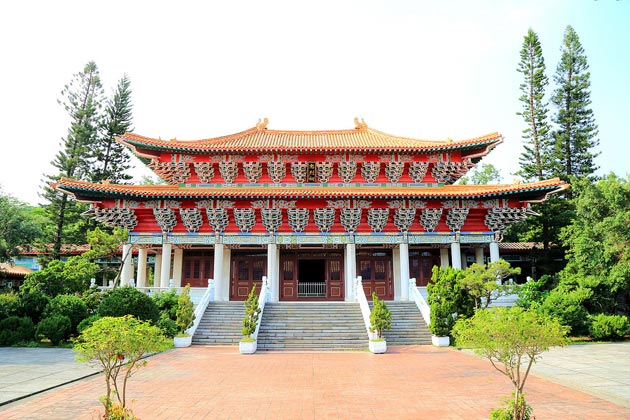 The structure was established in 1969 in Taipei City, Taiwan, as a lasting dedication to the war dead of the Republic of China. The design itself is meant to symbolize the courageous spirit of the martyrs. The building houses the spirit tablets of the fallen heroes, a traditional way for East Asian cultures to venerate an honored ancestor or deity. The shrine has plaques explaining the history of Taiwan during World War II and the Civil War with Communist China.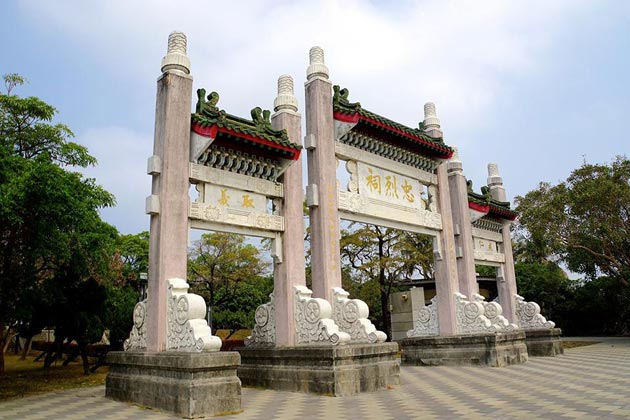 The main hall resembles a traditional Chinese palace with a double-hipped roof. The roof is covered with golden glazed tiles, and sculptures of gods, and auspicious animals are placed on the roof ridge. Unique structural elements of interlocking wooden brackets, ridgepoles, beams and a well are decorated with colored paintings characteristic of the Chinese Song Dynasty. Above the vermilion gate are bronze decorative cylinders, and knocking rings with bronze beast heads are installed to the gate. Around the Shrine are cloisters made of cement and white artificial stones, and the cloisters are installed with balustrades decorated with carved flowers and clouds. In front of the Shrine are fifteen stairs made of andesite, thereby lending the building an antique flavor. From the viewing platform, visitors can take in a spectacular view with Kaohsiung Harbor, Gushan, Cijin as well as the downtown Kaohsiung in the distance. During the day, the magnificent city can be seen bordered by the blue Pacific Ocean on its west side.