Hoi An is well-known for the view over colorful lantern streets at night, however, this ancient town of Vietnam has more cultural and historical meanings than just streets. One of the must-visiting attractions in Hoi An and Da Nang shore excursions is My Son Sanctuary. The view in the sunset is breathtaking over many charming red-brick towers where hiding a plenty of mysterious ancient values.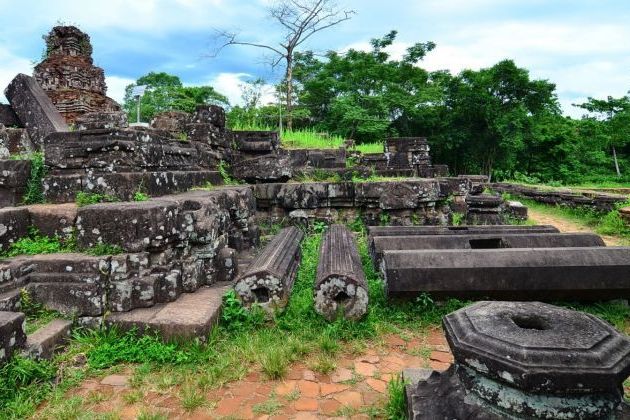 Location of My Son Sanctuary
Located in My Son village, Duy Tan Commune, Duy Xuyen district, My Son Sanctuary is just 30 kilometers driving to the west from Tra Kieu which is the capital of the ancient Cham Kingdom. If you coming from a Da Nang shore excursion, this sacred site is just 69 kilometers to the southwestern Da Nang.
History of My Son Sanctuary
My Son Sanctuary served as the holy land of the old Champa Kingdom dated back to the 4th century. During the time King Bhadravarman ruling the country in the 4th century, Tra Kieu was constructed to create a religious center for Royal family, nobleman, and most important religious rituals. Then, the center was named My Son. After nine centuries being preserved and developed, My Son is the witness sighting the peak time, glorious, and prosperous of Champa kingdom.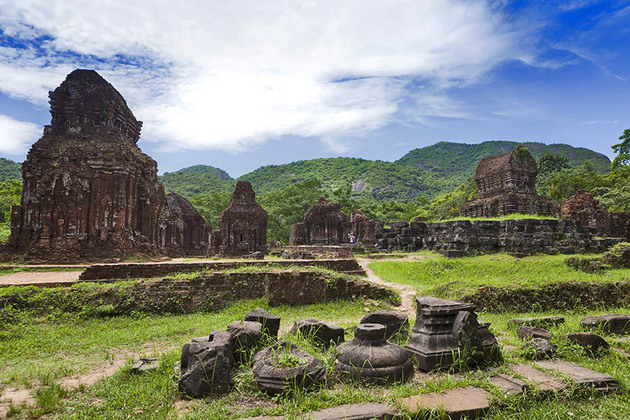 Although all of the temples remained till today are made from red bricks, the first temple was made from wood to worship the Saint Siva Bhadravarman with the name is the combination of the King and Saint Siva. A terrible fire in the 6th century destroyed the wooden temple, making the King have to build more structures which have the main materials are the more durable ones. The Champa Kingdom brilliantly developed until the late 13th century when neighbor countries including Vietnam in the north and Khmer in the west attacked. The capital in that time had to change to Binh Thuan province that My Son being left and no more structure was built since then.
No one remembers this sanctuary for hundreds of years until a French scholar discovers it in 1898. During the bloody Vietnam War, American bombs destroyed over one-third remnant, the rest part is still well preserved to open for public nowadays.
Architecture in My Son Sanctuary
Hiding in a narrow valley covered by mountains surrounding, this attraction is the masterpiece with the ancient unique Cham-style architecture. My Son is home to around 70 structures ranging from small to big size. A great amount of Poland, French, and Vietnamese researchers said that the architecture is inspired by Indian, Indonesian, Arabian, and Malaysian culture. The sight over red-bricks and sandstone towers is wonderful along with the priceless cultural values that make this attraction become a World Cultural Heritage Site in 1999.